Have you ever been to Penikese or Pollepel Island? Or heard of Esopus or Eastern Egg Rock?

The East Coast of the United States is dotted with intriguing, hard-to-reach islands home to robust wildlife populations and fascinating human history. Traces of inhabitants from centuries past can be seen in crumbling estates and fortifications, and some of these remote archipelagos are still populated today by small, isolated communities of fishermen, artists, and cultural groups like the Gullah-Geechee, descendants of enslaved people mostly from West Africa. Get Inspired By Photos, Videos, Webinars, Stories, And Exclusive Offers. Sign Up
On our brand-new journeys along the East Coast, you'll discover an America you didn't know existed. These wild yet close-to-home places offer inspiring landscapes, surprising wildlife, and little-known history. Here are 10 remarkable under-the-radar islands you won't want to miss.
Esopus, New York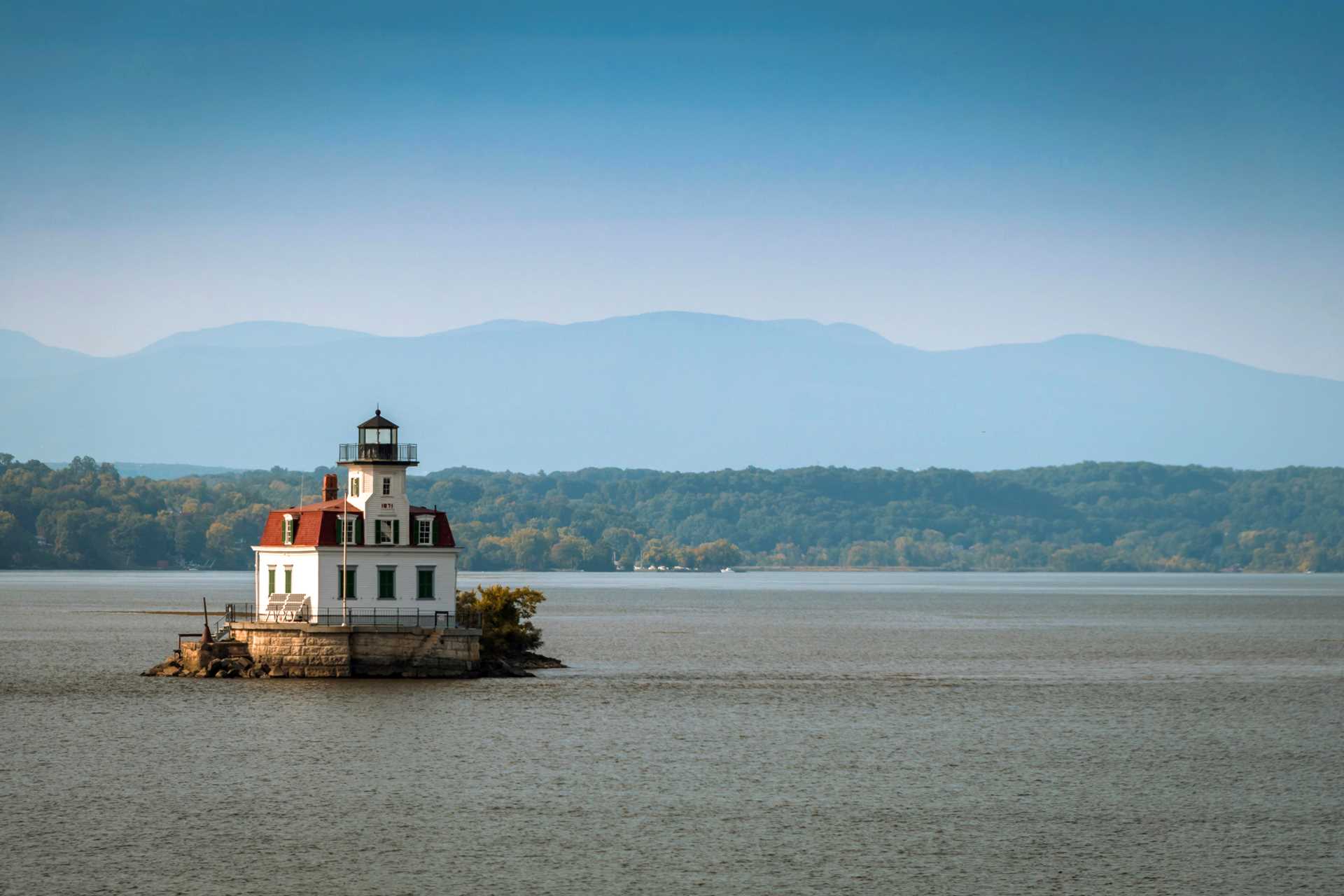 During the Revolutionary War, New York's Hudson River was the site of many battles. Before they leveled Kingston in 1777, the British overnighted off tiny Esopus Island, which we see by kayak and Zodiac. Native Americans gathered here and F. Scott Fitzgerald is said to have enjoyed the privacy of this rocky, partially forested slip of land with a small beach. However, it is Aleister Crowley whose name is most closely attached to it. In the summer of 1918, this British iconoclast who was a Cambridge graduate, an accomplished mountaineer, student of the occult, and advocate for drug use, spent 40 days and nights on Esopus Island writing libertine graffiti in red paint and translating a 4th-century Chinese philosophical text. Not even a mile long and mere yards wide, Esopus Island is now part of the state park system.
Visit Esopus on Exploring the Hudson River: Fall Colors, Conservation & Creativity
Cumberland, Georgia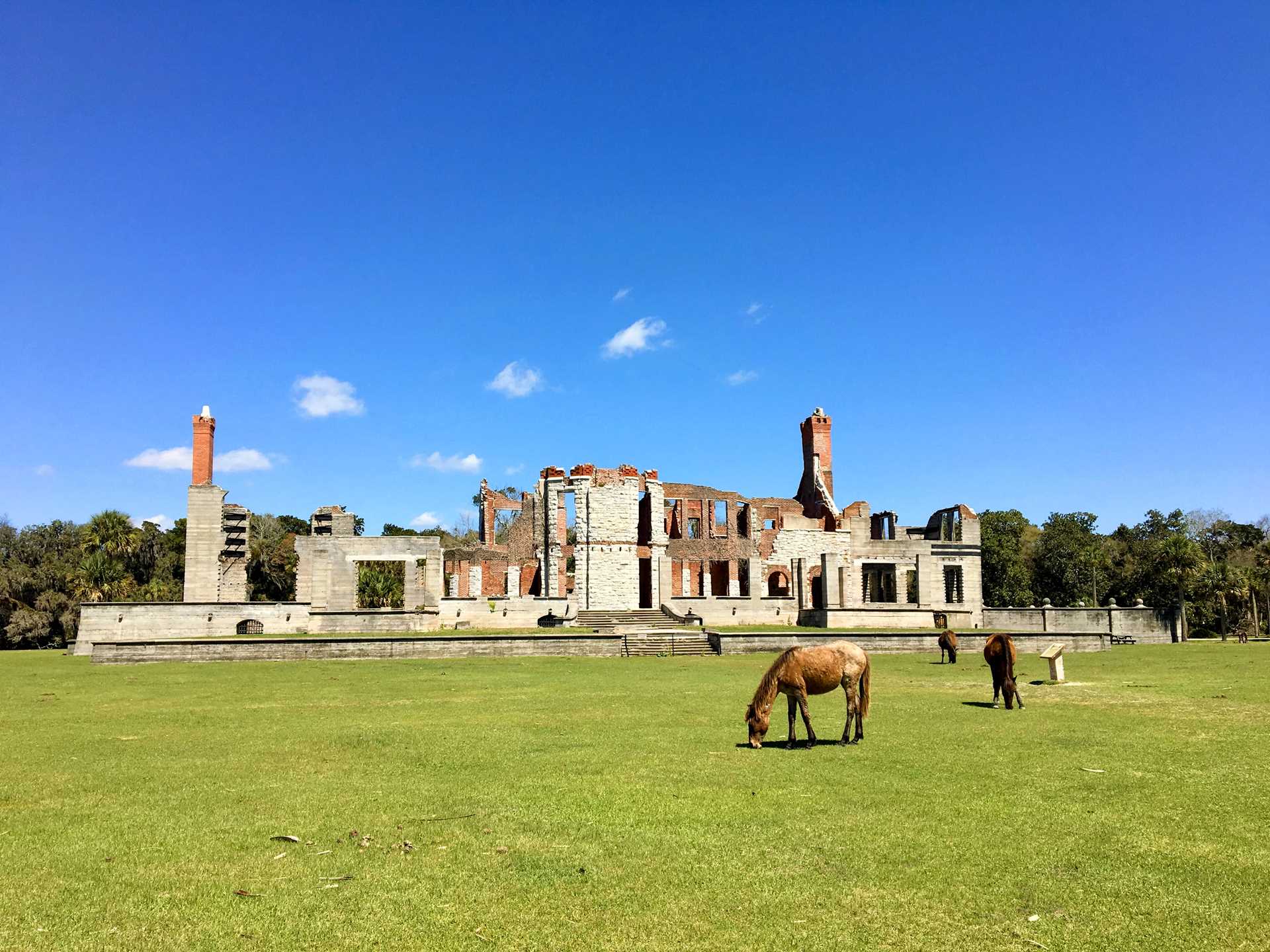 On the border with Florida, Georgia's largest and southernmost barrier island is a wild and intriguing federally protected National Seashore. Along 17 miles of coastline on Cumberland Island, discover turtles, sea stars, crabs, and shore birds on undeveloped beaches. The twisted branches of live oaks create a dense canopy over paths also lined with cedars, palms, and palmettos. The famous Carnegie family lived here for generations until a 1959 fire caused them to abandon their estate. Explore the ruins of Dungeness, built in 1884 for Andrew Carnegie's younger brother, and see the remains of the 35,000-square-foot mansion now in the process of being reclaimed by nature.
Visit Cumberland on Exploring the Low Country: Cumberland Island to Charleston

Plum, New York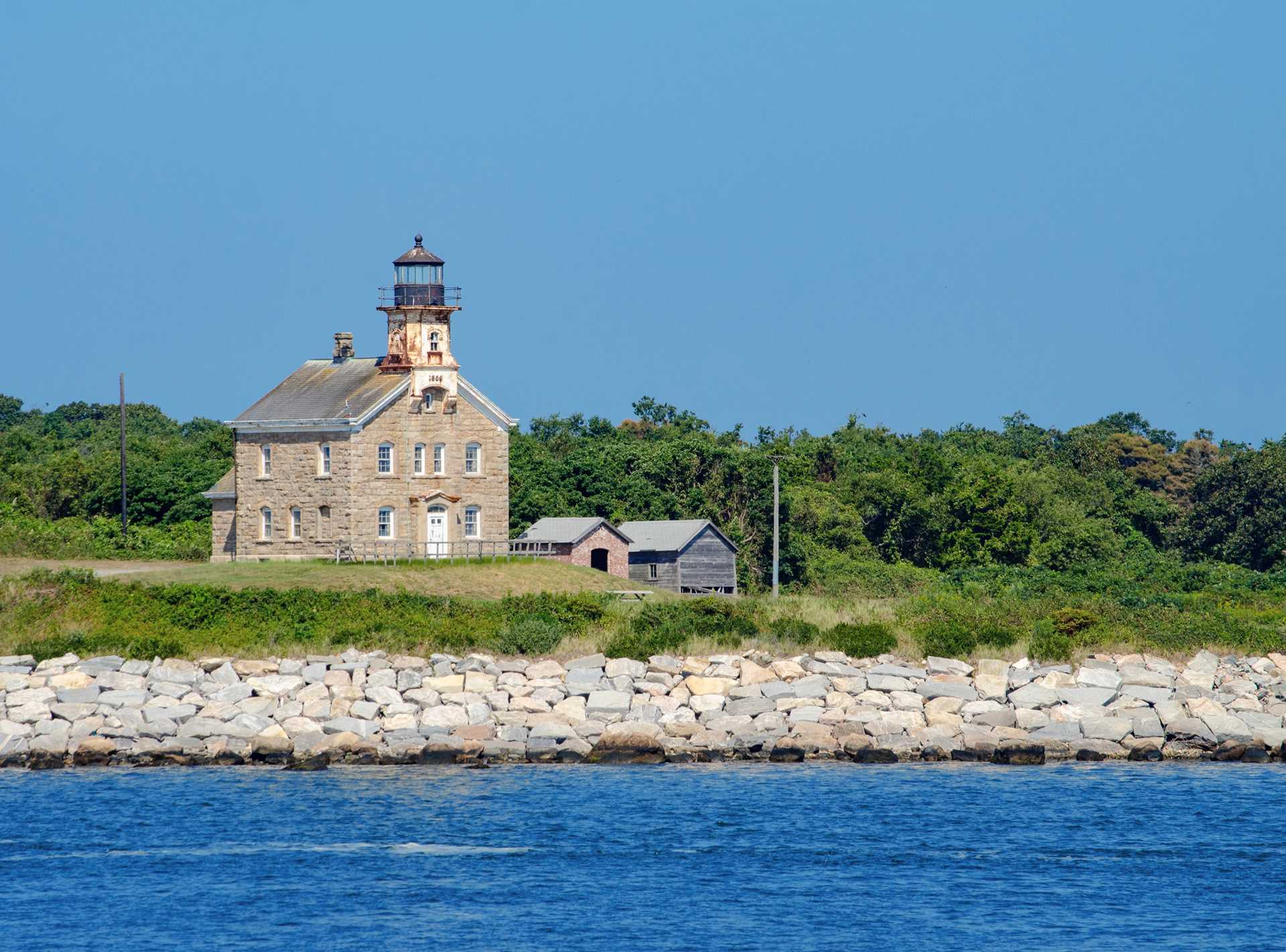 An 840-acre restricted-access island off the North Fork of New York's Long Island provides critical habitats for endangered wildlife. Since 1954 it has also been the site of the Plum Island Animal Disease Center—now part of the Department of Homeland Security—that works to prevent animal-borne diseases that could devastate our national food supply. Learn of The Nature Conservancy's on-going effort to save Plum Island from development as well as discover its layered history and observe wildlife. Hundreds of harbor and gray seals migrate here from Canada every year, and nearly a quarter of all bird species in the United States and Canada have been counted. Look for nesting colonies of at-risk and priority species such as piping plovers and roseate terns, among Plum Island's 111 species of conservation concern. Because of its strategic location at the entrance to Long Island Sound, the island was the site of a Revolutionary War attack and a fort complex that was used in three wars.
Visit Plum on New York City to Cape Cod: Discovering Whales, Great White Sharks, and Seafaring History

Eastern Egg Rock, Maine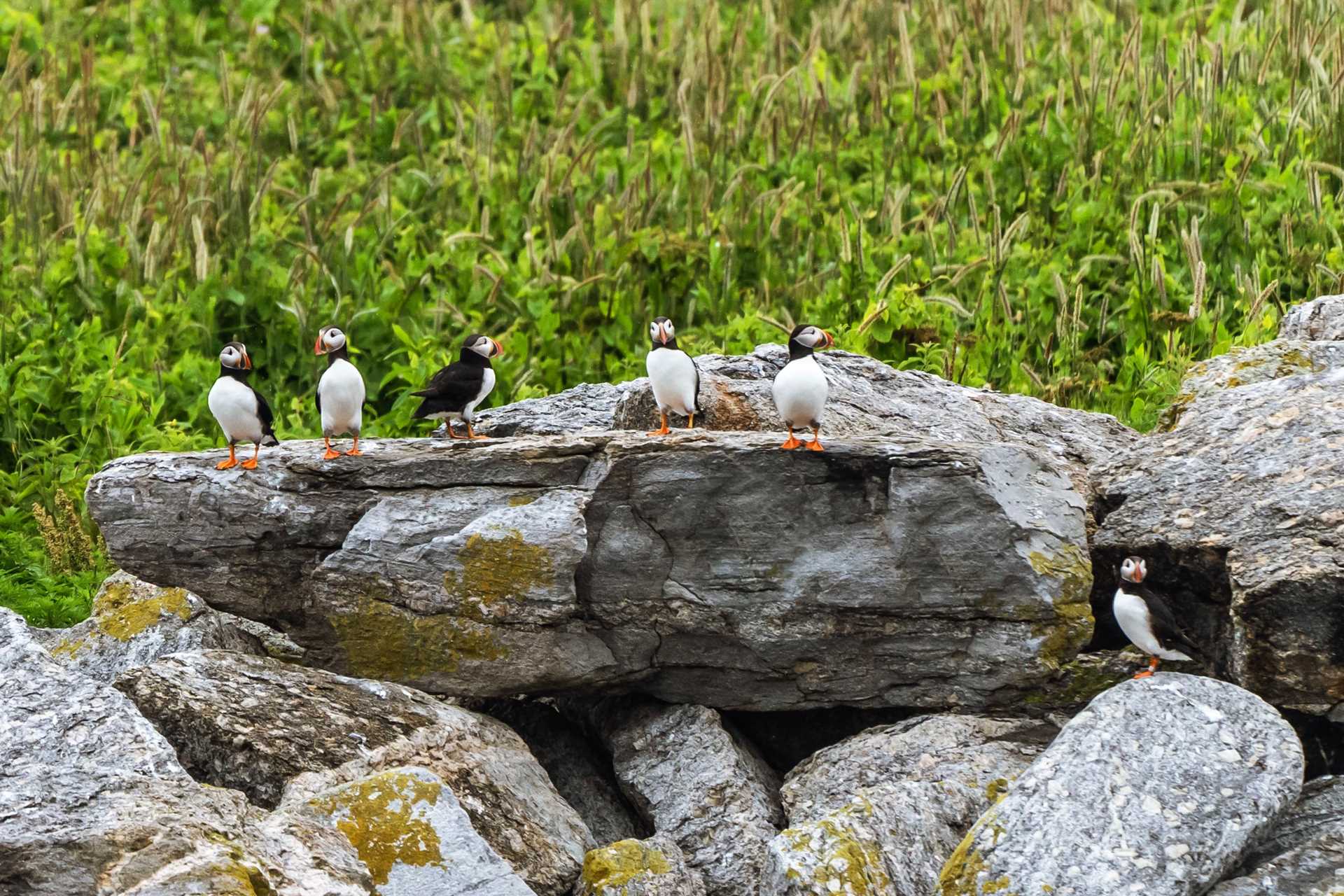 Visited on both of our Maine expeditions, Eastern Egg Rock is a seven-acre treeless island notable for its 180 nesting pairs of puffins. A conservation success story, the island is a wildlife sanctuary that's home to the world's first restored seabird colony. Prior to efforts that began in 1973, puffins had last nested here in 1885. Through puffin relocation, gull management, decoys, and mirror boxes—methods successfully replicated globally—puffins now nest on the large granite boulders that surround the island. The tern population was also restored, and now there are 1,000 pairs. In addition, as we get close to Eastern Egg Rock in Zodiacs, we will hope to see some of the other 122 species of water birds that have been observed including black guillemots, leach's storm petrels, common eiders, laughing gulls, razorbills, and manx shearwaters.
Visit Eastern Egg Rock on:
Exploring Coastal Maine: Lobsters, Lighthouses and Hidden Inlets
Wild Maine Escape: Exploring Downeast & Acadia National Park

Sapelo, Georgia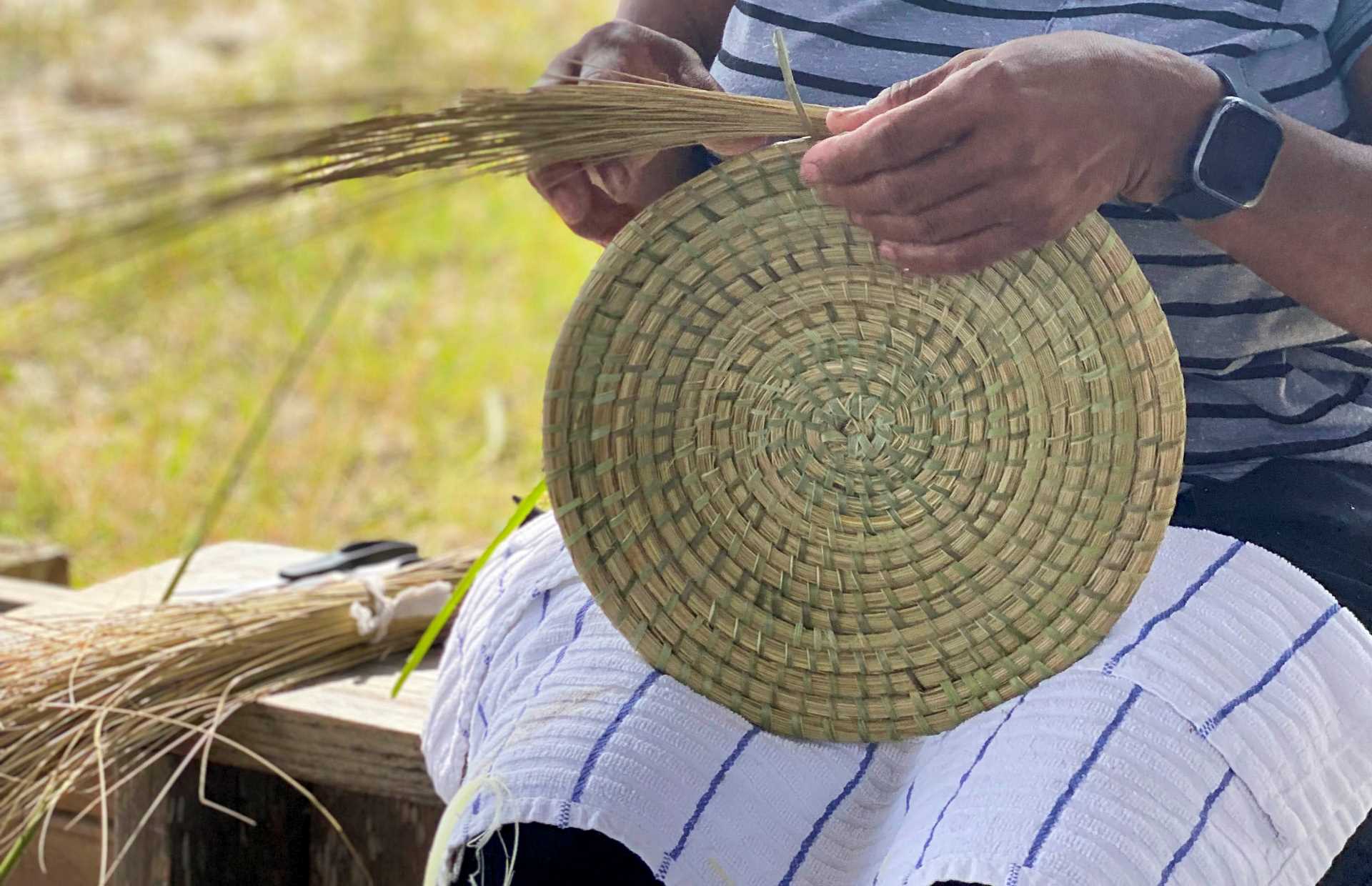 The history of Sapelo Island, Georgia is a rich tapestry of cultures and eras. Early indigenous people left behind a prehistoric shell circle near where Spanish missionaries settled in the late 16th century. The island produced Sea Island cotton and sugar, industries powered by slave labor; one family alone enslaved 385 people. After the Civil War, many former slaves stayed on the island and formed communities like Hog Hammock, Raccoon Bluff, and Lumber Landing. Now, Sapelo is one of only a few places in the world to find speakers of Gullah, a blend of African languages and words from English and Scots, and to learn about Gullah-Geechee storytelling, craftwork, and cuisine. A nature reserve covers more than a third of the island where endangered and threatened species include the Southern bald eagle, peregrine falcon, wood stork, and brown pelican, while a nearby marine sanctuary is home to more than 200 fish species and is also a calving ground for North Atlantic right whales.
Visit Sapelo on Exploring the Low Country: Cumberland Island to Charleston
Tangier, Virginia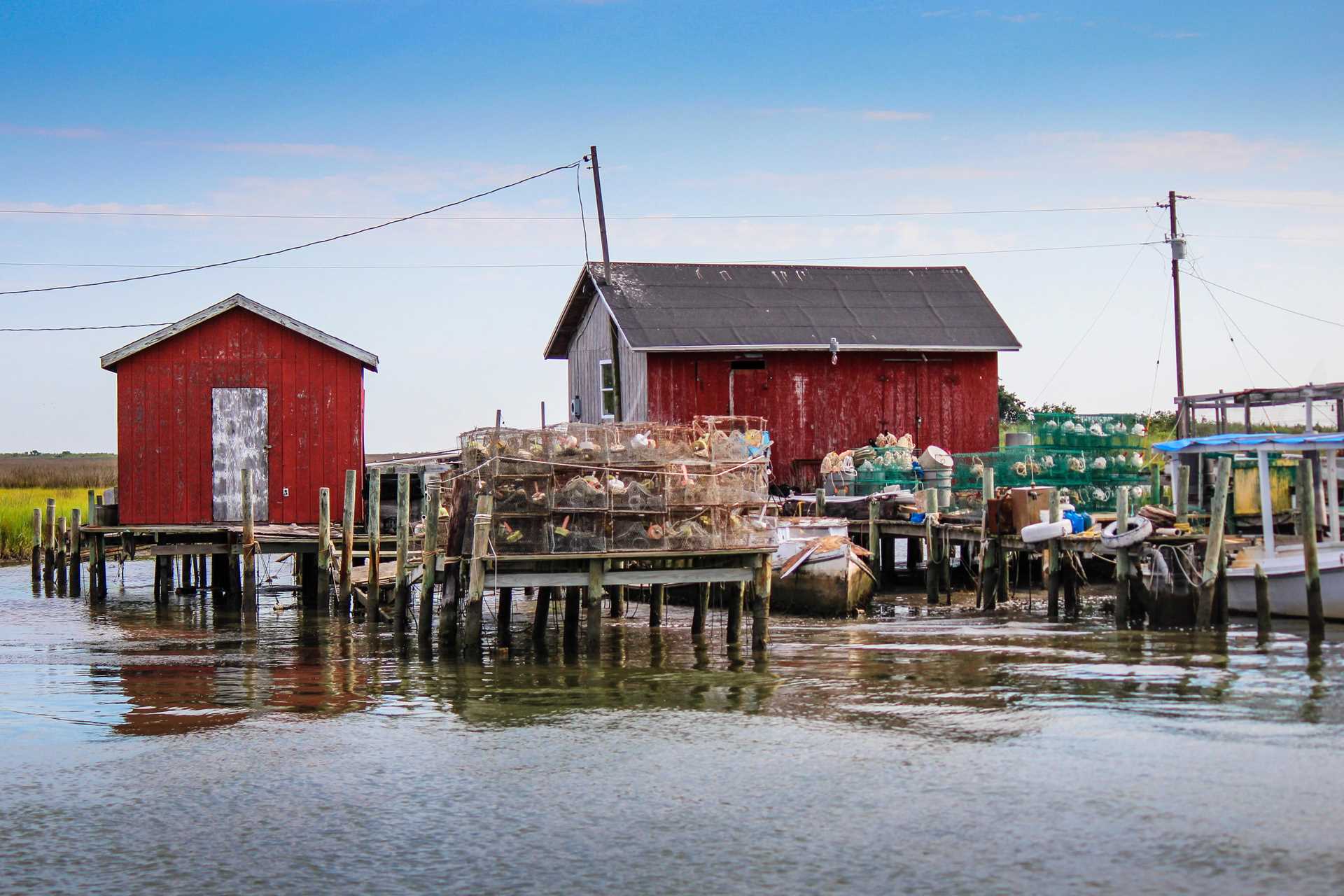 Almost all of Tangier Island's 700 residents are related by blood or marriage, and many can trace their heritage to the island's founding. A day here will transport you to a simpler time. There's one K-12 schoolhouse and no cars or traffic lights on this small Virginia island centered on fishing. Watermen spend sunrise to sunset catching mostly oysters in the winter and blue crabs the rest of the year. Two claims to fame from the history books: Captain John Smith named Tangier in 1608 and the British fleet that attacked Fort McHenry in Baltimore in 1814—the battle that resulted in "The Star Spangled Banner"—sailed from Tangier. Be ready to listen closely to islanders when they speak as you've probably not heard anything like their distinctive accent, speech patterns, and Elizabethan vocabulary that evolved from the original colonists. We will see the town, listed on the National Register of Historic Places, and of course take to the water. There's no better way to get a sense of life on Tangier Island than by kayaking in its salt marshes along an extensive system of canals and creeks formed by watermen over many generations.
Visit Tangier on Wild Chesapeake Bay Escape: Waterways, Watermen, and Wildlife
Pollepel, New York
In a particularly scenic stretch of New York's Hudson River, 50 miles north of New York City and between two state parks, the ruins of a castle sit 1,000 feet offshore on Pollepel Island. Built to house munitions by Frank Bannerman, a businessman of Scottish ancestry, it was occupied from 1901 until his death in 1917. As a scrappy Brooklyn 14-year-old, Bannerman started his business collecting and selling surplus munitions at the end of the Civil War. When the danger of having his growing arsenal in Manhattan became too great, he designed a castle that reminded him of home, which he also used as a summer residence. With the rolling hills of the scenic Hudson River painted the brilliant shades of autumn, we will discover the castle and its gardens and enjoy a special musical performance against the backdrop of the enigmatic ruins as the sun sets on our first evening on the Hudson.
Visit Pollepel on Exploring the Hudson River: Fall Colors, Conservation & Creativity
Isles of Shoals, New Hampshire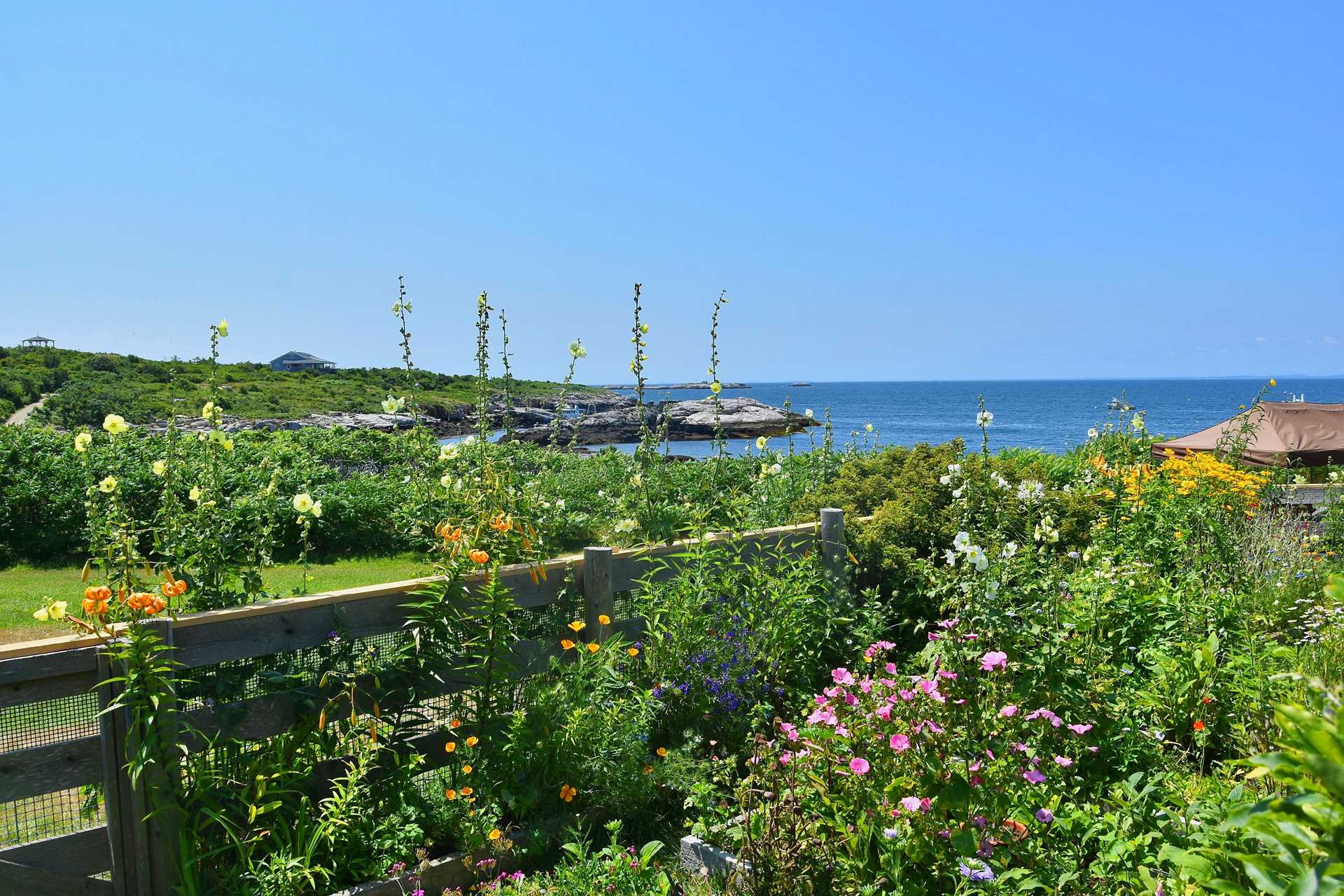 More than 100 types of wildflowers, from asters to zinnias, color Celia Thaxter's recreated garden on New Hampshire's Appledore Island. One of the nine Isles of Shoals that straddle the New Hampshire-Maine border, Appledore in the 19th century was a popular summer resort whose hotel was run by Thaxter's father. Thaxter became a well-received writer and poet and the Appledore Hotel attracted guests including writers Nathaniel Hawthorne and Harriet Beecher Stowe and artists William Morris Hunt and Childe Hassam. A renowned American Impressionist, Hassam painted a lovely series of Thaxter's garden now at the Metropolitan Museum of Art. After her death, the hotel burned and was not rebuilt but Thaxter's garden was replanted following the notations in her book, An Island Garden. By special permission, visit the Isle of Shoals Marine Lab, where the staff will show us around the island and discuss the success of their breeding colonies of common, roseate, and arctic terns.
Visit Isles of Shoals on Exploring Coastal Maine: Lobsters, Lighthouses and Hidden Inlets.
Penikese, Massachusetts
When one considers islands for snorkeling, Massachusetts does not immediately spring to mind. However, the wildlife sanctuary of Penikese Island, in Buzzards Bay off Cape Cod, is surrounded by clear, healthy water and does indeed attract snorkelers. It is better known as a destination for birdwatchers as Penikese is a critical nesting area for seabirds like gulls and the endangered roseate tern. Drawn by abundant fish and shellfish and undisturbed by humans, 150 species of birds can be spotted here including purple sandpipers, green-winged teals, and snow buntings. A trail walk affords expansive 360-degree views over the bay and the ocean to nearby Cuttyhunk Island and just past it, Martha's Vineyard. The trail passes abandoned buildings that housed a leper colony in the early 1900s, and until 2011, a reform school for troubled boys. Today, the Penikese Island School offers nature-based education, mostly day programs for area children. Notably, the island has a connection to the nearby renowned Woods Hole Oceanographic Institution. Former students of a short-lived 19th-century natural history school on Penikese opened the Woods Hole research institute in 1888.
Visit Penikese on New York City to Cape Cod: Discovering Whales, Great White Sharks, and Seafaring History
St. Phillips, South Carolina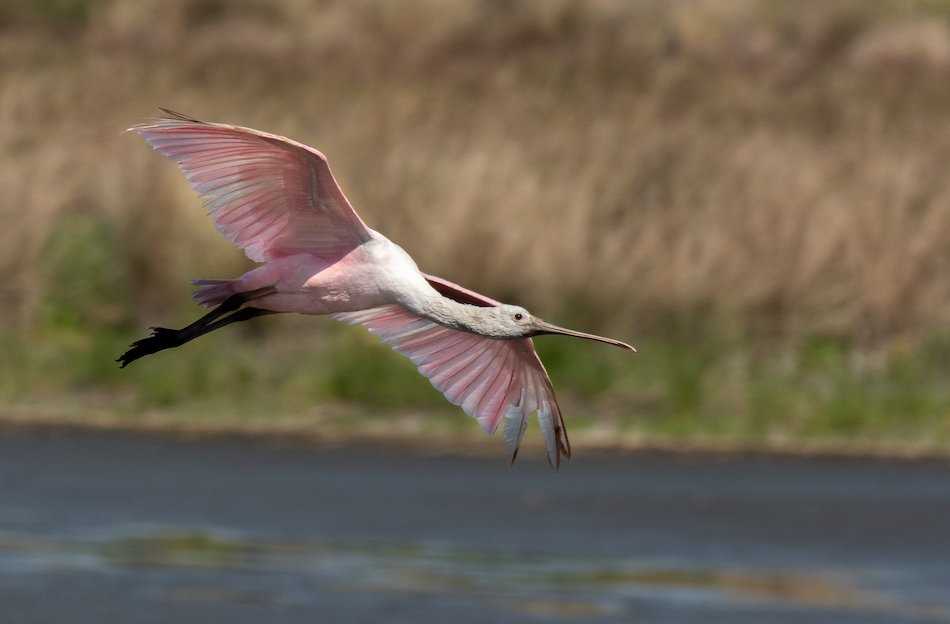 Never developed and never even colonized, South Carolina's St. Phillips Island is a rare wild spot on a coast lined with golf resorts. Ancient sand dunes, freshwater ponds, and channels line the four-mile island and provide habitats for loggerhead sea turtles and alligators. Bobcats, fox squirrels, eagles, and roseate spoonbills thrive in serene tidal creeks, salt marshes, and maritime forest. It might surprise you to learn that Ted Turner and his family spent time on an island without power, running water, or roads. A conservationist, he was a St. Phillips Island steward for 40 years; now the island is part of Hunting Island State Park. There's also an unusual "boneyard beach" on St. Phillips, adorned with the remnants of trees which the ocean is in the process of reclaiming. Explore St. Phillips with us and find out why Southern Living described it as "a salty Eden where dolphins leap."


Visit St. Phillips on Wild South Carolina Escape: Beaufort and the Barrier Islands