In 2024, the National Geographic Resolution will be docked in Bergen, Norway on a very special day for the Norwegian people. Syttende Mai, or 17th of May, is Norway's Independence Day and guests aboard Norway's Fjords and Arctic Svalbard will have the unique opportunity to partake in the special festivities. Be sure to pack some red, white, and blue clothing and read on to learn more about the joyous celebrations that take place across the country. All are invited to share in this special day, which celebrates unity and community. Get Inspired By Photos, Videos, Webinars, Stories, And Exclusive Offers. Sign Up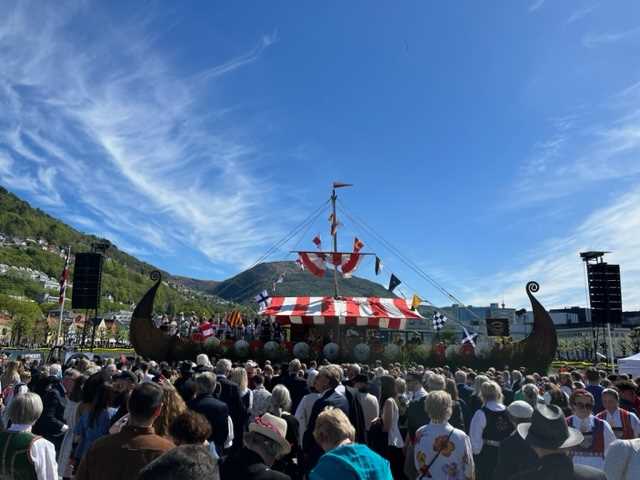 What is Syttende Mai and why is it significant?

Known also as Grunnlovsdagen (Constitution Day) and National Day, Syttende Mai translates literally as the "17th of May." On this date in 1814, the Norwegian Constitution was signed, marking the end of more than four centuries of Danish rule.
Norwegians celebrate their independence with shows of national pride that include parades, traditional dress, and traditional foods. It's also a celebration of spring and renewal as round-the-clock sunshine brings blooming flowers and increased wildlife sightings. It's a wonderful time of year to be in Norway!
When was the holiday first celebrated?
Although Syttende Mai was first celebrated in 1814, it wasn't officially recognized until 1833. Norway was united with Sweden until 1905, so in the years immediately following the signing of the constitution, celebrating independence from Denmark was considered a sign of protest against that union.

How do Norwegians typically celebrate?

Similar to Fourth of July for Americans, Syttende Mai is a joyous day when Norwegian families and friends gather for meals, dress in traditional clothing or the colors of the flag, and watch or march in parades.
Some communities start the day with an early morning flag raising ceremony that includes singing of the national anthem and patriotic speeches. There are also special church services and the pops of Champagne corks may be heard at breakfast tables around the country.
Children's parades are the centerpiece of Syttende Mai celebrations. Dressed in their finest traditional clothing, kids and teens march through the streets accompanied by school bands and cheered on by crowds waving Norwegian flags.
The day's spirited celebrations also often include live music, patriotic songs like "Gud signe vårt dyre fedreland" (God Bless our Precious Fatherland), and cookouts where kids and adults alike participate in potato sack and three-legged races.
A torchlight procession or a fireworks display might end the evening with a bang.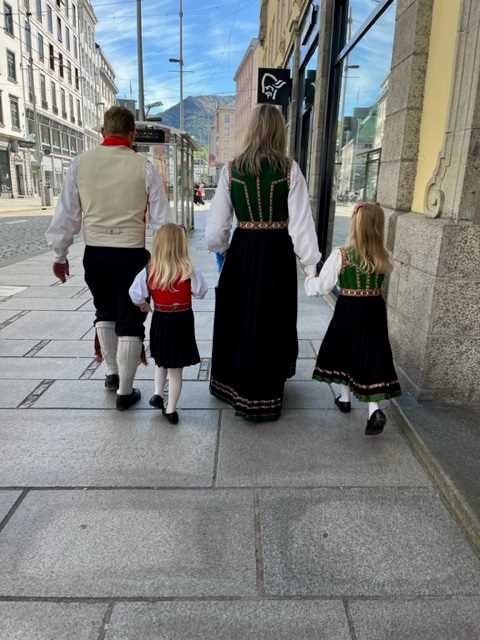 Do people dress up for the occasion?

On Syttende Mai, people often dress in the colors of the flag which features a blue cross outlined in white on field of red, the most popular color to wear.
Traditional costumes called bunads are also worn to show national pride. The designs and colors of these formal outfits vary by region, reflect great artisanry with embroidery and other decorative elements, and are often passed down from one generation to another. Bunads are handcrafted from fabrics like wool and silk, but you can also find simpler, less expensive folk costumes made from cotton and synthetic fabrics.

What is the significance of the parades?
Because the parades usually center around children, they symbolize hope for the future and reflect the role younger generations have in preserving Norwegian values of democracy and equality.
The first children's parade happened in Oslo in 1870 and ever since they have been a Syttende Mai constant (except during Nazi rule from 1940 to 1945 when Syttende Mai celebrations were not sanctioned).
What kind of food do Norwegians eat on Syttende Mai?

You might be surprised to learn that traditional Norwegian food on Syttende Mai includes hot dogs and ice cream, just like on the Fourth of July. Other foods commonly eaten on Syttende Mai may be less familiar to Americans, like rømmegrøt, a sour cream porridge which is sprinkled with cinnamon and sugar and accompanied by butter and cured meat. Dried leg of lamb called fenalår and open-faced sandwiches called smorbrod are also prevalent.
As for dessert, the most traditional choice is bløtkake, a layer cake filled with whipped cream and fruit and decorated with vanilla icing, strawberries, and blueberries to reflect the colors of the flag.
Are there any local traditions specific to Bergen, Norway?
Yes, Norway's second-largest city has some Syttende Mai traditions only found there. An especially jovial parade is led by local dignitaries wearing streamer-decorated top hats. Behind them march an array of groups from soccer clubs kicking balls to dental students dressed as children's book characters throwing candy to the crowd.
The city's unique Buekorps are the stars of a second parade, drumming and dancing with high energy. In a tradition that dates to the 19th century when boys with fathers in the National Guard imitated their drills, today the young men of Buekorps march on Syttende Mai in uniform, carrying rifles and crossbows and impressing crowds with demonstrations of their skills.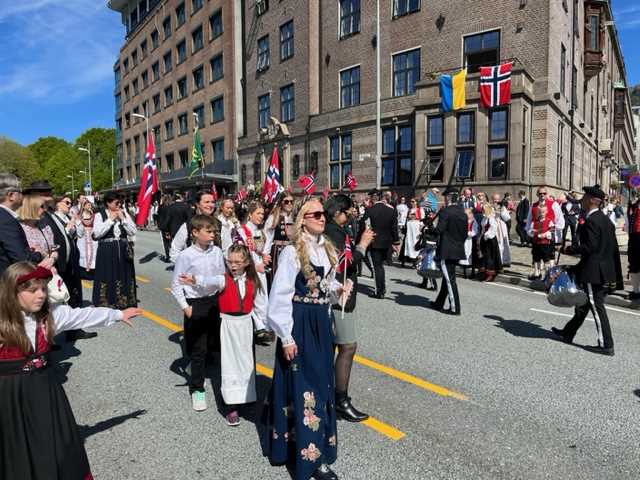 How do you greet people in Norwegian on Syttende Mai?

"Gratulerer med dagen!" meaning "Congratulations on the day!" is a traditional greeting on Syttende Mai, as is "Hurra for syttende mai!" ("Hooray for the seventeenth of May!").
What can guests expect to experience when they are in port during this special day?

Guests arriving for the May 17, 2024 departure or disembarking from the May 2, 2024 departure of Norway's Fjords and Arctic Svalbard can take advantage of our centrally located hotel and spend the day at their leisure experiencing the holiday on the streets of Bergen. The local parade route passes directly by the hotel making it very accessible to take in the sights and sounds of the festivities. The best way to get the full experience of Syttende Mai is to walk the city streets and take in the designs of the national dress, sample the foods, witness performances in the city park, buy a small Norwegian flag to wave, or learn a new song with the locals as they sing with friends and family throughout the day.