At the christening of National Geographic Endurance on July 22, 2021, veteran naturalist Tom Ritchie was honored for his contribution to her legacy. Here's the lore behind an ancient maritime tradition.


On March 17, 2018, Lindblad Expeditions celebrated the keel laying of the National Geographic Endurance, our brand-new, Polar Class 5 ship, at the shipyard in Gdynia, Poland. This time-honored, seafaring tradition marks the first major milestone in the construction of a new vessel. Since the supportive keel, or spine, allows a ship to travel swiftly and smoothly, it's an exceptionally important part—and an auspicious way to begin a build. Get Inspired By Photos, Videos, Webinars, Stories, And Exclusive Offers. Sign Up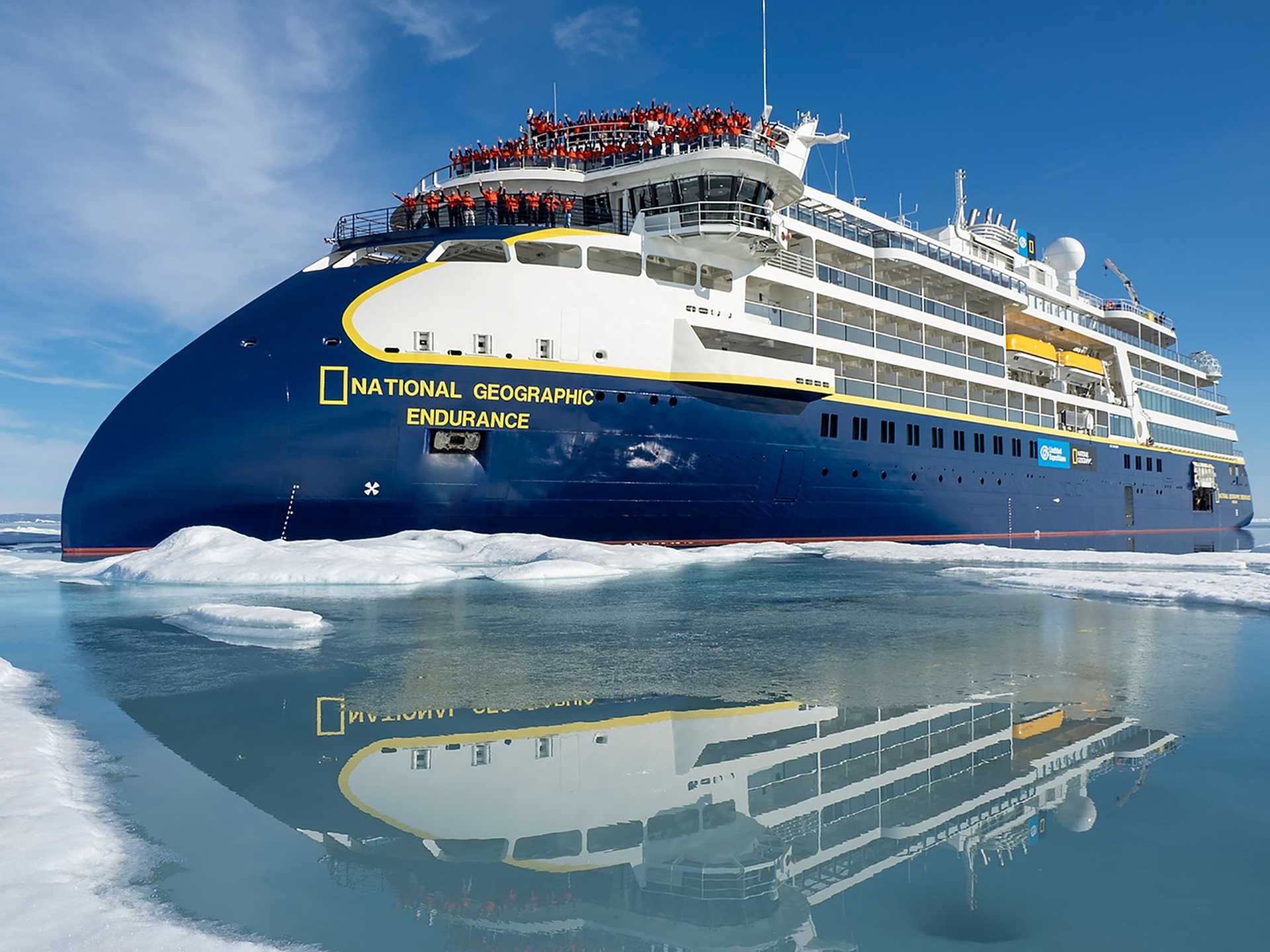 As tradition also holds, a coin is welded to the keel to safeguard the ship and all who sail upon her. But as we prepared for our ceremony that had us wondering. What kind of coin? How many? Should they be gold, silver, alloy? To get to the bottom of these questions we turned to the man most likely to know: our longtime friend and iconic Lindblad naturalist Tom Ritchie. As suspected, he gave us chapter and verse on the topic.
While there are variations on this tradition, according to British maritime practice, the coins must be silver—sailors are highly superstitious and silver is the sailors' metal associated with the moon, the ruler of tides and symbolic of much more. He also informed us that you can have one coin or as many as seven or eight (extra coins mean extra luck, right?) Guided by Tom's expertise we commissioned a design and struck a very special silver coin to commemorate this very special ship.

Our newly minted commemorative silver coin (left) is etched with a polar bear and penguins signifying the two poles National Geographic Endurance will explore. Tom's solid silver Austro-Hungarian thaler (dollar), dated 1780, features Marie Therese on one side and a double-headed eagle on the other.
But what adds true richness and meaning to our story is that in illuminating the tradition for us, Tom generously volunteered his personal lucky coin to become an eternal part of National Geographic Endurance. He received it nearly 20 years ago from a sailor friend and promised to always carry it with him. If you've traveled with Tom, chances are you've seen it and heard some of his many coin stories, including one of our favorites, the time he thought it was lost forever in Micronesia. Here, in Tom's words, is an excerpt of that devastating loss—and the miraculous recovery!
"In 2014, we spent two days exploring Truk (Chuuk) Lagoon, one of the largest atolls in the world. On the first day I went snorkeling with a group that visited the wreckage of a Japanese Zero fighter plane, which had settled upside down, right near the old airstrip. Back on the ship, as I dressed for Recap and dinner, I couldn't find my lucky silver dollar. After searching everywhere, I came to the realization I must have lost it out of my shorts' pocket when I was free diving at one of the two wrecks. I was distraught.
I had lost the coin plenty of times over the years, but always found it again between the cushions on the living room couch, or in my jeans within the laundry pile, but this time was different. After agonizing over the loss, I finally rationalized it by thinking the massive World War II Japanese graveyard of Truk Lagoon was an appropriate place to make some sort of peace offering with my lucky dollar. Yes, maybe this was meant to be.
The next day, I took non-snorkelers out in the glass-bottomed Zodiac and returned to the site of the wreckage. Just before finishing up with the final round of guests, Tim, another naturalist, came out in a shuttle Zodiac to pick them up. He had brought with him 10-year-old guest Ethan Buckingham, who hadn't seen it the previous day. So, Tim and Ethan jumped into the water for a quick look. Within a few minutes, Ethan saw something shiny down near the engine block nestled among the coral rubble. Tim dived down for a closer look and was amazed to find a large silver coin. He picked it up, swam to the surface, and said, 'Hey, Tom, look at this! Do you think it's real?' I was flabbergasted! I had accepted that my coin was truly lost, and Tim just handed it back to me.
Probably more than 60 people had swum around the site the past two days and no one noticed it until Ethan did his five-minute snorkel. This proves it really IS a lucky silver dollar!"
Naturalist Tom Ritchie shows off his lucky silver coin.

With Tom's coin taking pride of place alongside ours on the keel, that incredible luck will now forever follow National Geographic Endurance as she explores deeper into Antarctica's pack ice and the farthest reaches of the Arctic. In a letter sent to Lindblad staff after the ceremony, our founder Sven Lindblad had this to say about Tom's coin: "There is no doubt in my mind that now even the most superstitious among us can wholeheartedly believe that good fortune will most assuredly bless the expeditions of National Geographic Endurance and all who embark upon her!"


We look forward to welcoming you aboard the brand-new National Geographic Endurance. See where she'll explore for her inaugural year and beyond, and learn more about her state-of-the-art design and superb amenities.