Sophisticated, design-forward cities like Stockholm and Copenhagen have long taken the spotlight in Scandinavia, but there are numerous enchanting islands in the archipelagos of Sweden, Denmark, and Finland not well known to residents of other regions that offer enticing views, centuries-old history, and rich culture.
Encounter a remarkably well-preserved medieval walled town, Iron Age ring forts, and a tiny island alive with nesting eiders. Exploring by foot, kayak, and Zodiac, see fishing villages and windmills, dramatic hilltop castle ruins and wild islands with flower-filled meadows, and rocky outcrops where seals rest in the sun.
The people of these Baltic archipelagos have built their lives around fishing and shipping. It is no wonder that the Captain of our Navigating the Baltic Sea itinerary aboard the National Geographic Explorer is from this region. Captain Peik Aalto grew up in the Åland Islands, a Swedish-speaking autonomous region of Finland. He has been everywhere from Greenland to Antarctica with Lindblad Expeditions and is looking forward to calling at his home port, Mariehamn. Captain Aalto encourages visitors to try the national dish, Ålands pannkaka. "It is made of porridge and served with stewed prunes or jam and whipped cream." Look for it in the town's cafés and visit the Bridge to learn more from Captain Aalto about life on these beautiful Baltic islands.
Åland Islands, Finland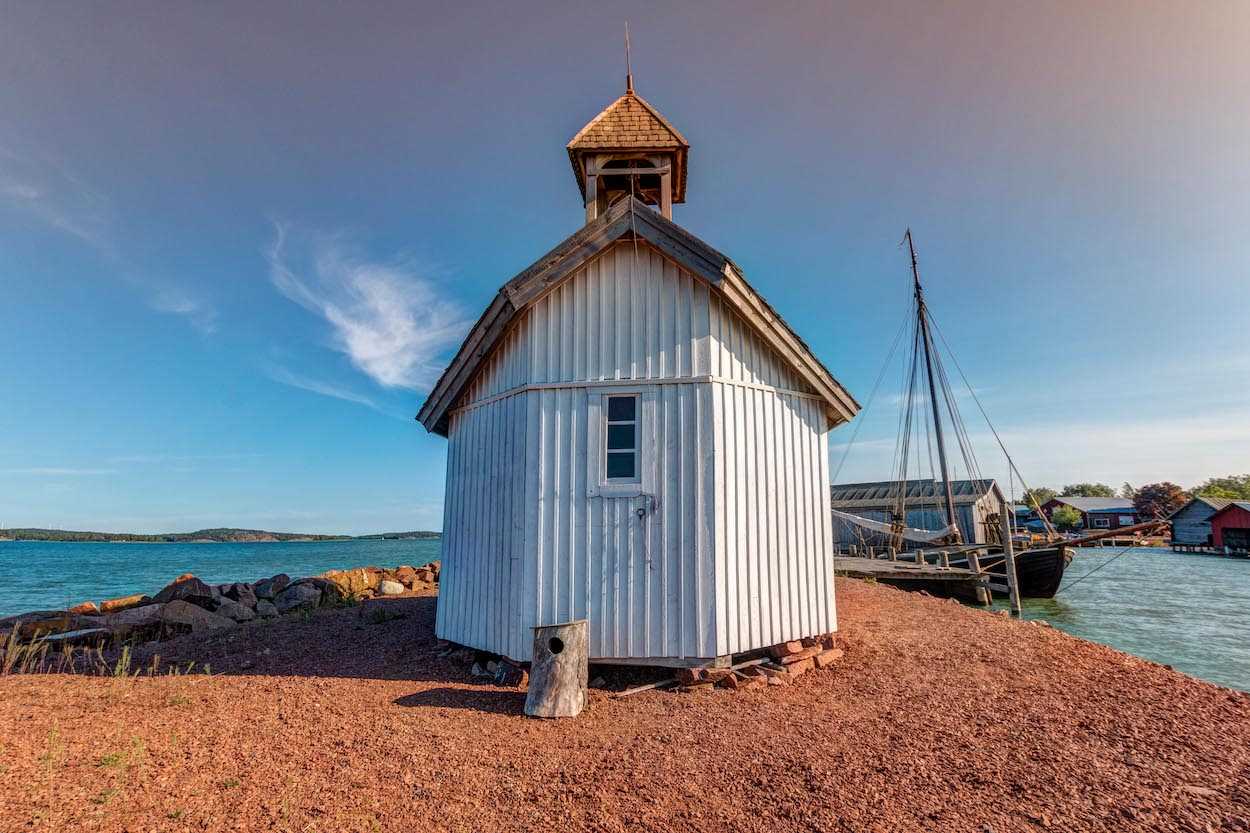 Celebrating a century of independence, the fascinating Åland archipelago is an autonomous region of Finland whose nearly 30,000 residents on 6,700 islands speak Swedish. Strategically located in the middle of the Baltic, Åland is a natural shipping nexus that was home to one of the world's largest sailing fleets in the early 1900s. A reminder of this time can be seen in the capital, Mariehamn where you'll find the Pommern. The only four-masted steel bark in its original condition in the world, Pommern originally belonged to Åland Islands' shipping magnate Gustaf Erikson. Mariehamn, a friendly community of 11,500, is known as "the town of the thousand Linden trees" for its tree-lined esplanade that adds to the charm of turn-of-the-century wooden villas and harborside shops, restaurants, and cafés. Sample excellent locally produced dairy products, chocolate, beer, mustard, and Ålands pannkaka, and walk off any indulgences with a stroll along a seaside path that winds along the beach.
Oland Island, Sweden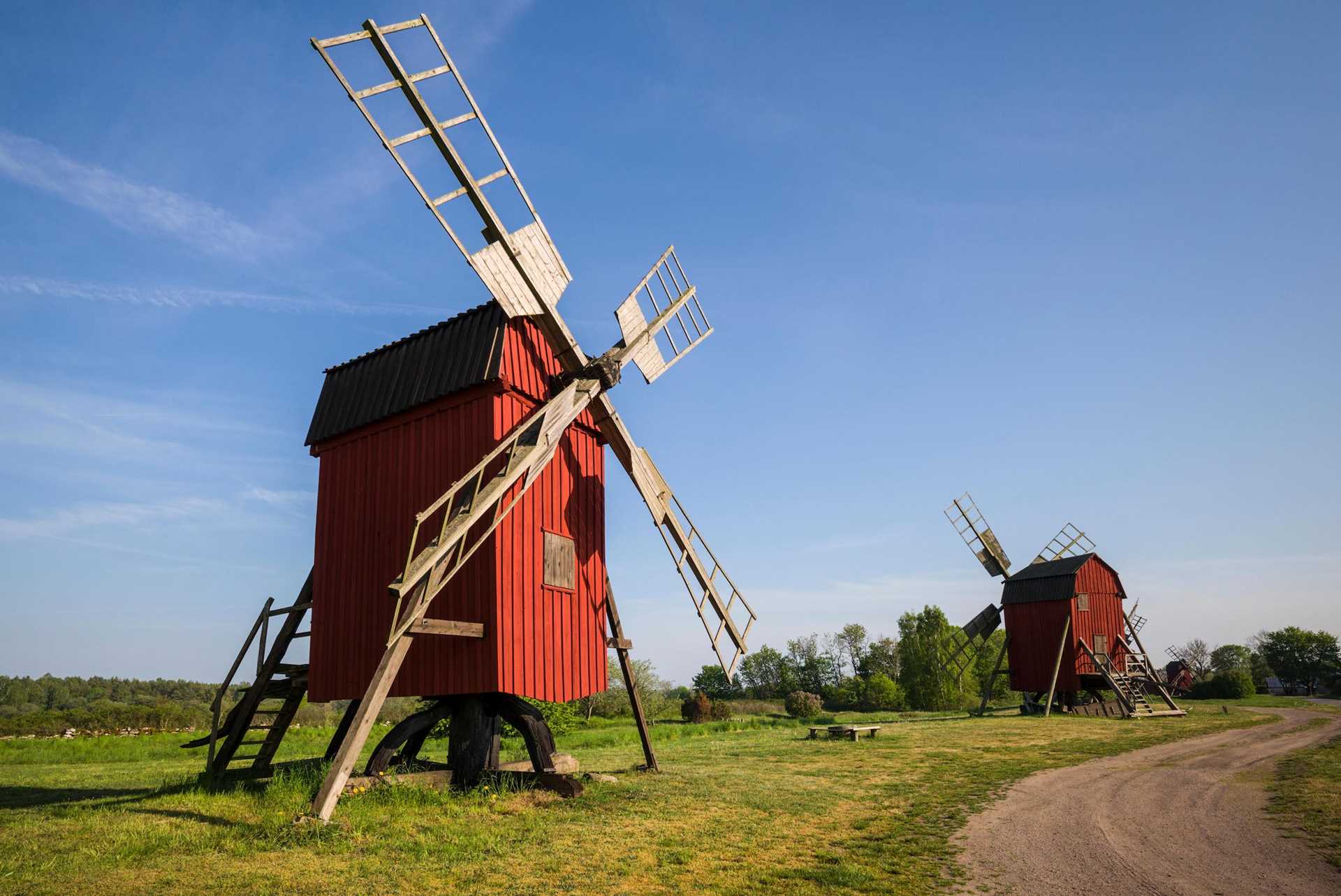 In the tranquil and picturesque Swedish archipelago, Oland is Sweden's second-largest island. The royal family has spent summers in Solliden Palace since 1906, and the atmospheric ruins of nearby Borgholm Castle date to the 13th century. Vestiges of much earlier inhabitants are found across the island at Iron Age burial grounds and ring forts that date to 6,000 BCE. With hundreds of miles of coastline, Oland has a plethora of beaches and fishing harbors as well as Sweden's tallest lighthouse. Although not in use, 350 windmills add to the island's unique character as does a rare geological feature called an alvar, which is part of a UNESCO-protected agricultural landscape. A vast limestone plateau covers a fifth of the island where fields and villages survive as they were in the Middle Ages and co-exist with prehistoric archaeological sites. As for flora and fauna, Oland has 75 nature reserves, 35 species of orchids, and twice as many cows as people. It is also a destination for birdwatchers who train their binoculars on species including rose-colored starlings and marsh sandpipers.
Explore these islands on Navigating the Baltic Sea. >
Gotland Island, Sweden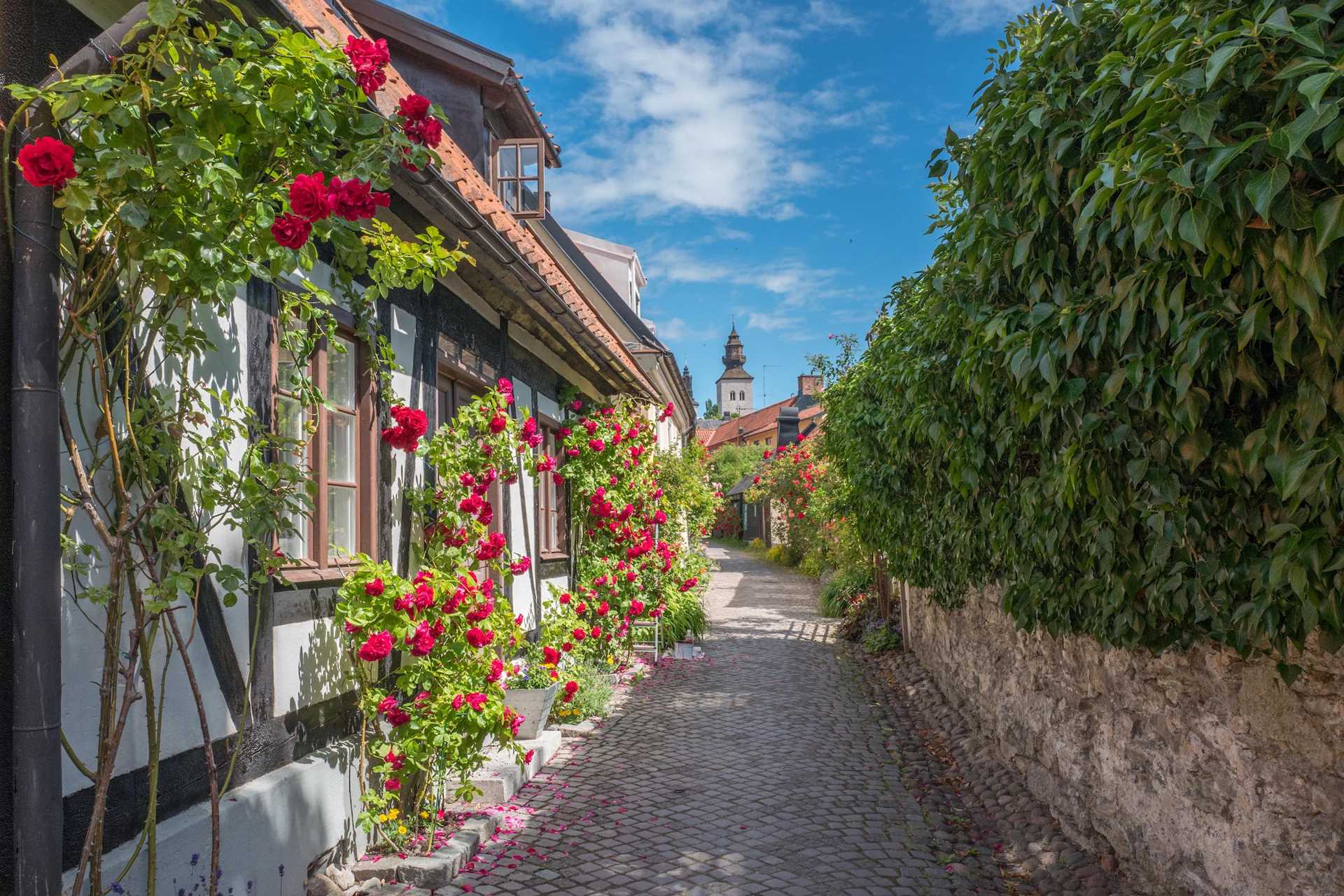 Just north of Öland, Gotland is a large island best known for the 12th-century town of Visby, a UNESCO World Heritage site. Encircling the city center, a well-preserved medieval ring wall retains its original towers and gates. Wander the cobblestone lanes of this Hanseatic town, which was once a repository for Viking gold, to see more than 200 buildings that date from the 12th to the 14th centuries. Among these are churches: There are 92 on Gotland that were built before 1350, and Visby has more churches than any other town in Sweden. There are also more restaurants per square mile in Visby than anywhere else in the country. Foodies will want to take note that truffles grow here and saffron pancakes are a local specialty. No wonder it is a popular holiday destination: Gotland has more than 150 nature reserves, sea stacks in the wild and windswept northern part of the island, and flower-filled meadows, shipwrecks, and beaches in the south.
Bornholm, Denmark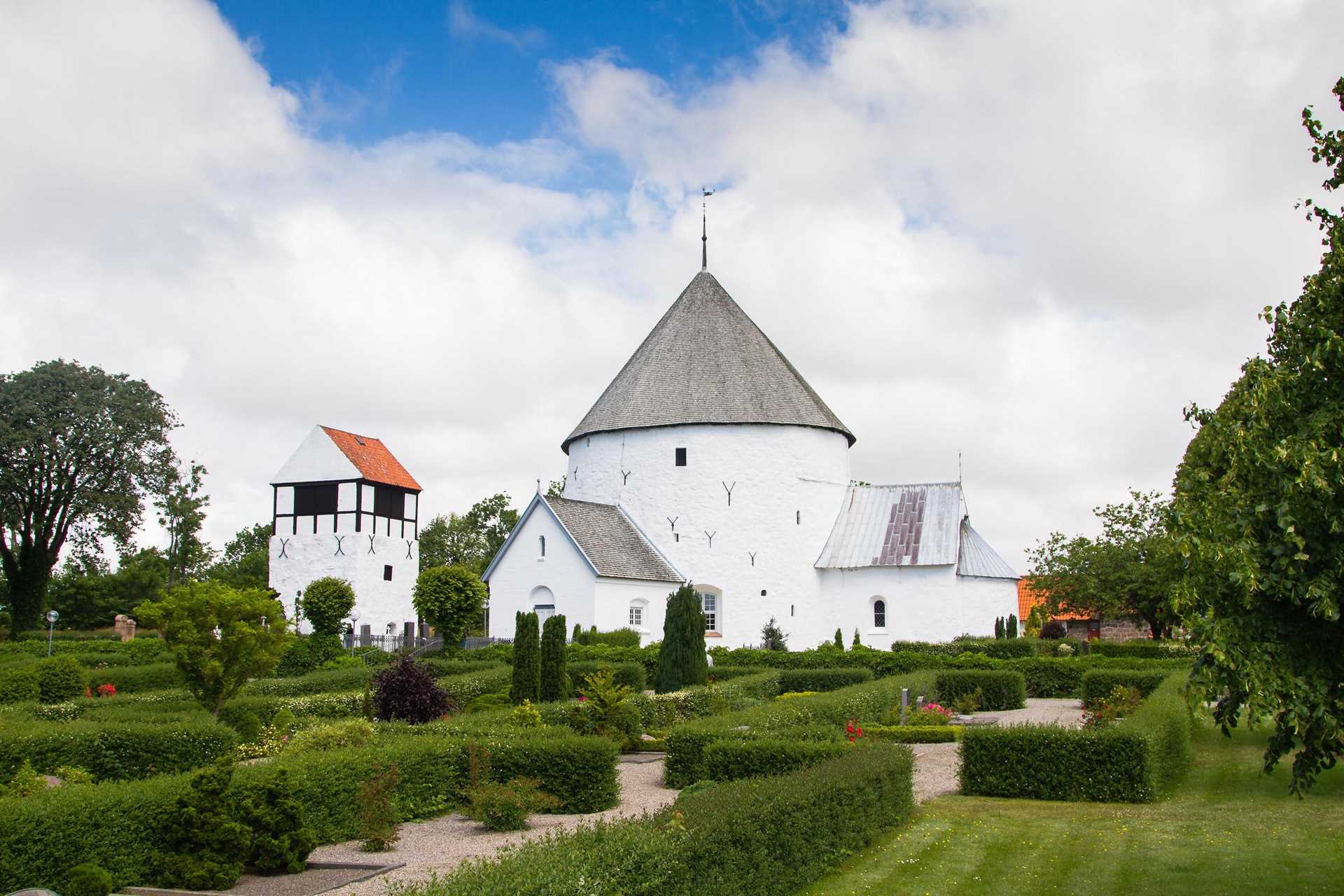 The largest castle ruin in Northern Europe is Hammershus on Bornholm, an island with no fewer than seven medieval castle ruins. Perched on a cliff at the northern tip of the island, Hammershus was likely financed by spoils from the Crusades. Constructed nearly a millennium ago, the fortress was abandoned in 1743. Bornholm also has four of Denmark's seven round churches. A popular Scandinavian construction in the 11th and early 12th centuries, round churches were built to withstand attacks with six-feet-thick stone walls and windows just wide enough to fit an arrow. The pretty fishing village of Svaneke, population 1,044, is Denmark's easternmost town. Winding lanes lined with half-timbered cottages lead to a picturesque harbor and a distinctive water tower designed by the same architect as the Sydney Opera House.
Christinasø, Denmark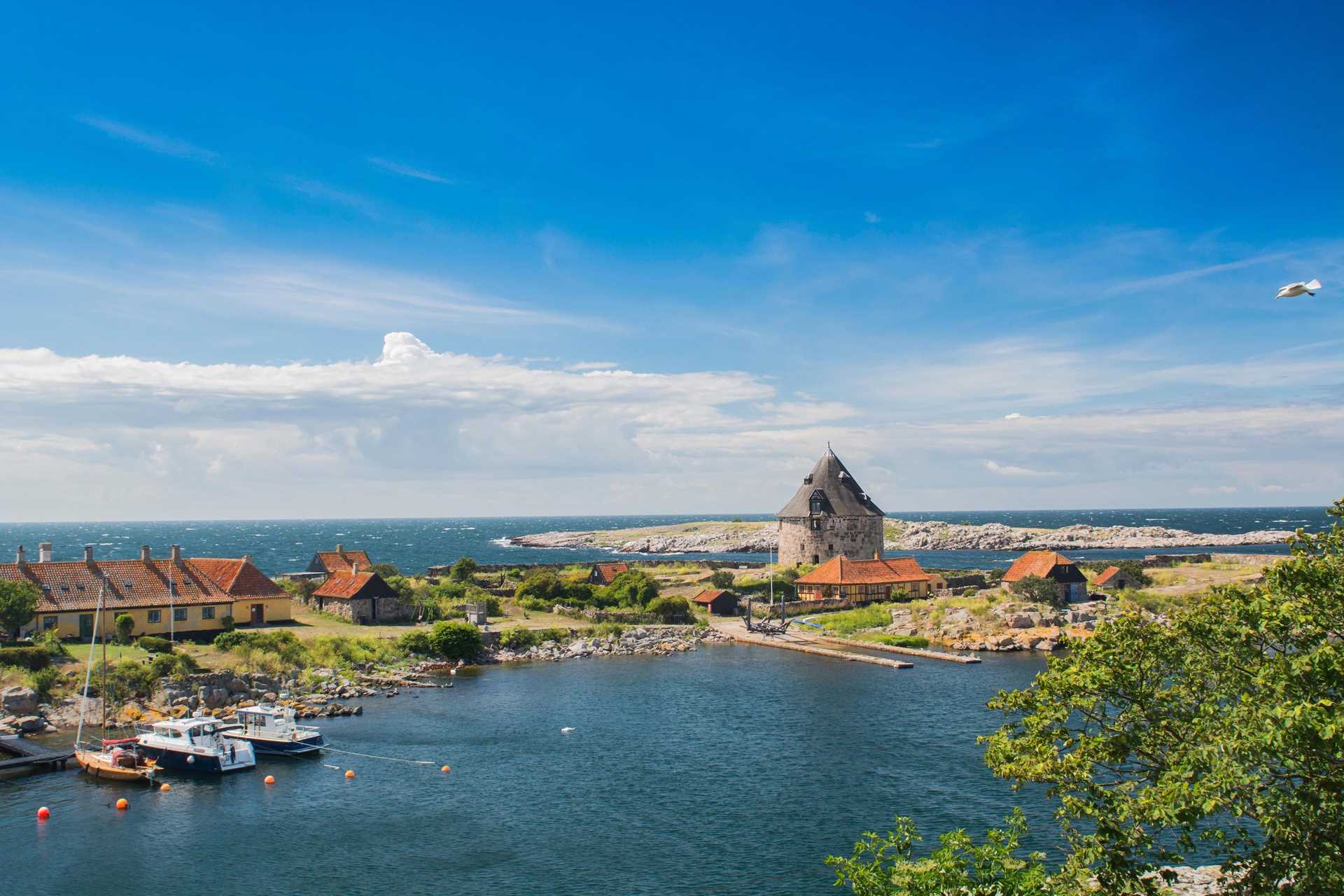 Tiny Christiansø, situated only 12 miles from Bornholm, is just 54 acres. It joins Frederiksø, a bird sanctuary called Græsholm, and several rocky islets in composing the Ertholmene archipelago. A castle was built on Christiansø in 1684 to deter pirates who had been plying these waters for centuries; today every building on the island, including that castle, as well as all flora and fauna are protected. The castle's distinctive round tower, called Store Tårn, was updated with a lighthouse in 1800, and more recently with a glass roof, creating a unique architectural space. Now a museum, this tower withstood British bombardment in 1808 and the fortress was decommissioned in 1855. Fewer than 100 people inhabit the islands and they are outnumbered by thousands of nesting eider. Migratory birds like cranes and the minute goldcrest are also among Ertholmene's 302 known bird species. Although landings are not allowed on Græsholm, we hope to see its large colonies of seabirds like herring gulls, razorbills, and guillemots. Denmark's largest gray seal rookery is here as well; several hundred call Ertholmene's rocky islets home.