"The richest coral reef in the world!" That is how National Geographic photographers David Doubilet and Jennifer Hayes describe Indonesia's Raja Ampat. The celebrated photographers have explored this marine paradise numerous times and one thing they've learned is to always expect the unexpected. Here's a glimpse of what's to come if you join them on our brand-new itinerary. Get Inspired By Photos, Videos, Webinars, Stories, And Exclusive Offers. Sign Up
Text: Lauren A. Greene
Photos: David Doubilet & Jennifer Hayes
The Jewel of the Coral Triangle
Raja Ampat sits smack in the middle of the Coral Triangle, an intricate marine area that encompasses the waters of Indonesia, Papua New Guinea, Malaysia, the Philippines, Timor Leste & the Solomon Islands. Seventy-six percent of the world's coral species can be found in this remarkable region—and Raja Ampat is the center of the center of coral diversity with 553 species. As you probably guessed, all that coral supports an abundance of fascinating life.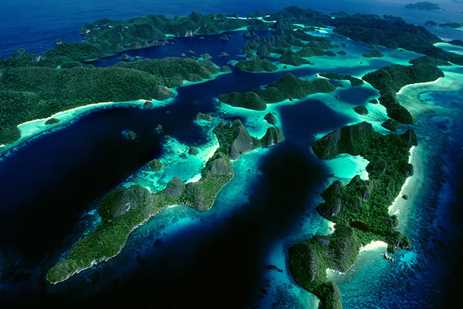 Secrets of the Sea
Doubilet and Hayes vividly remember their first expedition together to Raja Ampat in 2005. "We did not see another boat other than wooden dugouts for the whole month we were there," they recall. Since then, they have returned often to explore. "Collectively speaking, we have probably spent between 1-2 years getting to know a few of her secrets. We savor each and every minute we get to work there, and we don't say that lightly—every moment under the sea is a standout moment."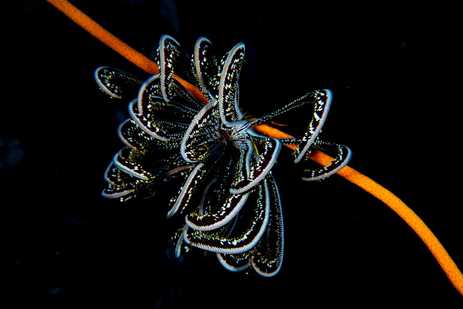 A Tapestry of Habitat
When you plunge into these turquoise waters prepare to be utterly amazed. There are over 1,500 coral reef fish species, five of the world's seven sea turtle species, and seven giant clam species—and that is only the beginning. "The seascape is a tapestry of habitat," say Doubilet & Hayes. "Shallow corals patrolled by walking sharks, deep reefs awash in nutrients, blue water mangroves, mangroves with carpets of leather coral so thick you can't see the bottom, limestone caves. And then there is the marine life—walls of fish on Cape Kri, carousels of manta rays, and clouds of chromis in Melissa's Garden."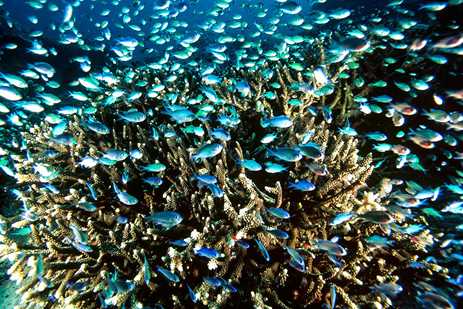 From Sharks to Sweetlips
Although the couple hopes to encounter new creatures each time they dive, there are two species which they're happy to see time and again. For Hayes, it's the wobbegong shark. "They are a quirky shark designed to live on the seafloor and they often lay about on large table corals for hours at a time. They have a fringed mouth that attracts prey, but it also makes them look a bit like a giant tawny-colored bathmat," she says. Doubilet's favorites are the large schools of sweetlips that live on many reefs—they're bright yellow with stripes and bubblegum-pink lips.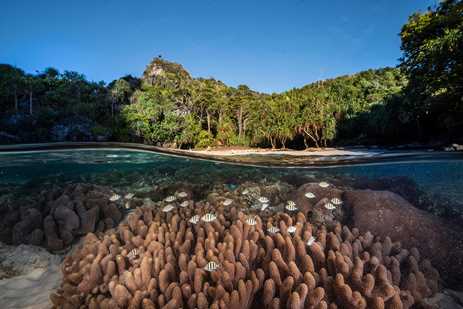 Explore, Connect, Protect
For their most recent project, Doubilet & Hayes are documenting the reefs as part of a long-term story for National Geographic called Coral Through the Lens of Time. "Each time we visually document the reef, we're embedding geotag information into the images so we can return to exactly the same spot and observe a reef through time." They are also looking forward to returning with Lindblad Expeditions and sharing moments in this special sea with guests. "Every expedition is a collaboration of the curious—curiosity about our planet, our place on it and understanding it better. We want guests to deeply connect with these unique corners and to learn why knowing them firsthand and protecting them is crucial."
A Must-See for Ocean Lovers
"This expedition offers a glimpse of one of the greatest ocean pulses of life on the planet. There are very few reef systems left that are not overdeveloped, ravaged by climate change or overfished," say Doubilet & Hayes. "If you love the ocean, Raja Ampat is a must-see. We would not miss it for the world, and we do not want you to miss it either." See below for a few more of their spectacular photos—then plan to join them on this unforgettable itinerary into the beating heart of a coral wildness.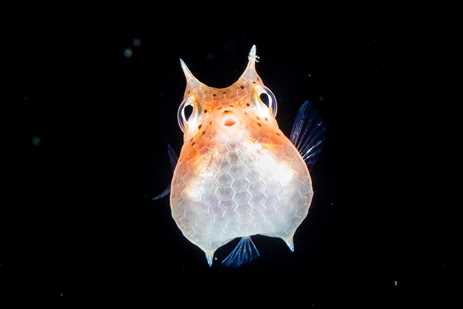 Into the Blue
The largest fish in the sea, a whale shark glides through the waters of Raja Ampat.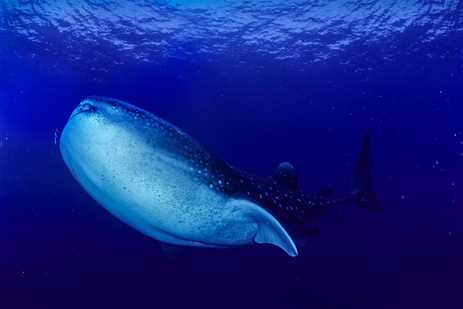 Colorful Creatures
A shoal of fish swim vertically over coral.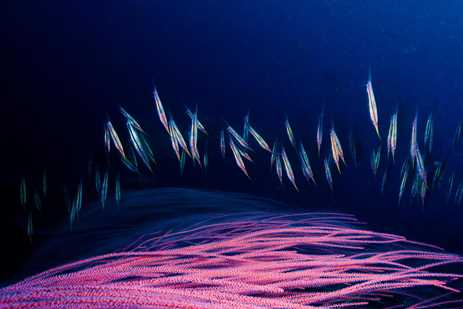 A Haven for Sea Turtles
Raja Ampat is a designated sea turtle sanctuary. Look out for hawksbill, green, leatherback and olive ridley turtles which all nest in the region.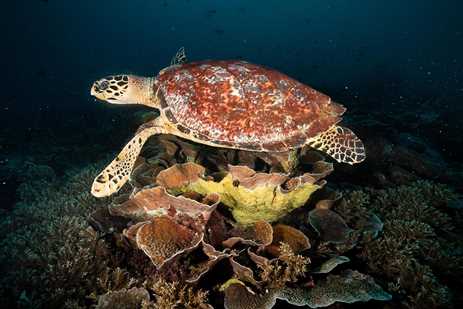 Above and Below
Life in Raja Ampat is equally fascinating above and below the water line. Discover both facets when you explore with Lindblad.