Alaskan Humpbacks Are Different
The humpbacks here engage in cooperative bubble-net feeding—a fascinating behavior you can't see anywhere else on Earth! Working together, a group of whales corral and trap fish in a fizzy net of bubbles before bursting to the surface, mouths agape, to scoop up their meal. Only about 50 or 60 whales in all of Southeast Alaska have been identified as bubblenetters, so these whale encounters are nothing short of amazing—but thanks to local whale researchers who join us aboard, things get even better. As you watch the show, these experts reveal eye-opening facts about the individual whales you're witnessing. Get Inspired By Photos, Videos, Webinars, Stories, And Exclusive Offers. Sign Up
Photo: Brenda Tharp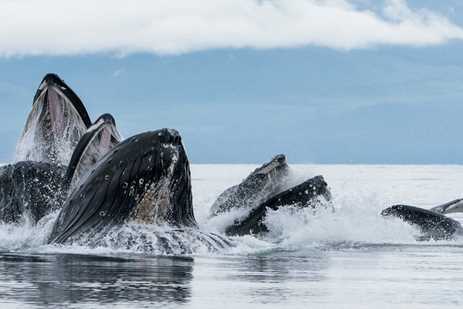 There Is One Bear for Every 21 Humans
Plus, more caribou than the entire state's population. There's a real reason Alaska is known as the "Last Frontier." Only one third of the land is defined by cities or towns and the population density is the lowest in the country. That leaves a vast expanse of remote, undisturbed wilderness where wildlife roams free and far. In this verdant playground, you'll find the world's greatest concentration of bald eagles, rafts of sea otters, huge Steller sea lion colonies, Alaskan brown bears, orcas, humpbacks, seabirds, and much more.
Photo: Ralph Lee Hopkins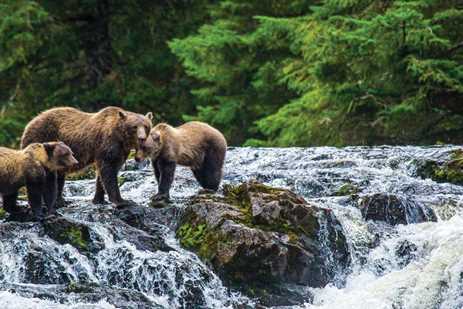 The World's Largest Temperate Rainforest Is In Alaska

Stretching 500 miles north to south, the Tongass National Forest accounts for nearly one-third of all the old-growth temperate rainforests left on Earth. Temperate forests are a unique and richly biodiverse habitat and the Tongass supports a wealth of incredible flora and fauna—from towering cedar, spruce, and hemlock trees to rivers teeming with all five species of Pacific salmon. Hiking through this swath of green engages all your senses and our eagle-eyed naturalists will make sure you absorb even the tiniest details—from carnivorous plants and colorful lichen to fuzzy caterpillars.
Alaska's Undersea Forest Teems with Life
That's right! Dive below and you'll find a forest that rivals the Tongass. Alaska is home to three types of kelp which forge dense and richly productive forests in the relatively shallow waters along the coast. Some kelp can reach 150 feet and grow 18 inches in one day—and this towering ecosystem provides food, protection, and spawning grounds for a staggering amount of life. On the surface, you'll see the sea otters who patrol these forests, but our undersea specialists will help reveal all the other weird and wonderful creatures—urchins, sea stars, snails, nudibranch, octopus—that lie below.
Photo: Alyssa Adler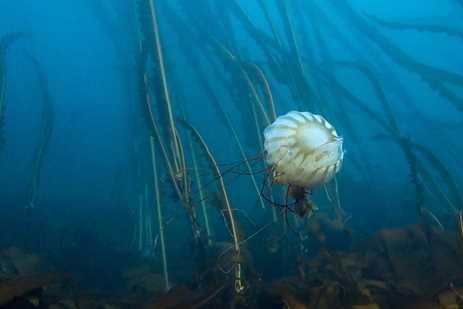 America's Top 10 Highest Peaks Are All in Alaska
You probably know Alaska has mountainous terrain, but what you may not realize is how truly impressive those peaks are. The tallest in both the U.S and North America, Denali reaches a sky-high 20,310 feet above sea level. It's so massive it even generates its own weather. The next nine range from 18,009 to 14,573 feet. But you don't need to be a world-class climber to enjoy the many majestic peaks that dominate the landscape. Just step out on the bow of the ship and take in the incredible scenery as you sail past snow-capped mountains rising above lush forests, icy glaciers and idyllic coves. For a more adventurous angle, hop on a flightseeing tour and take in an unforgettable birdseye view.