WorldView
6 Min Read
30 Apr 2020
What It's Like to Visit Svalbard's Bear Island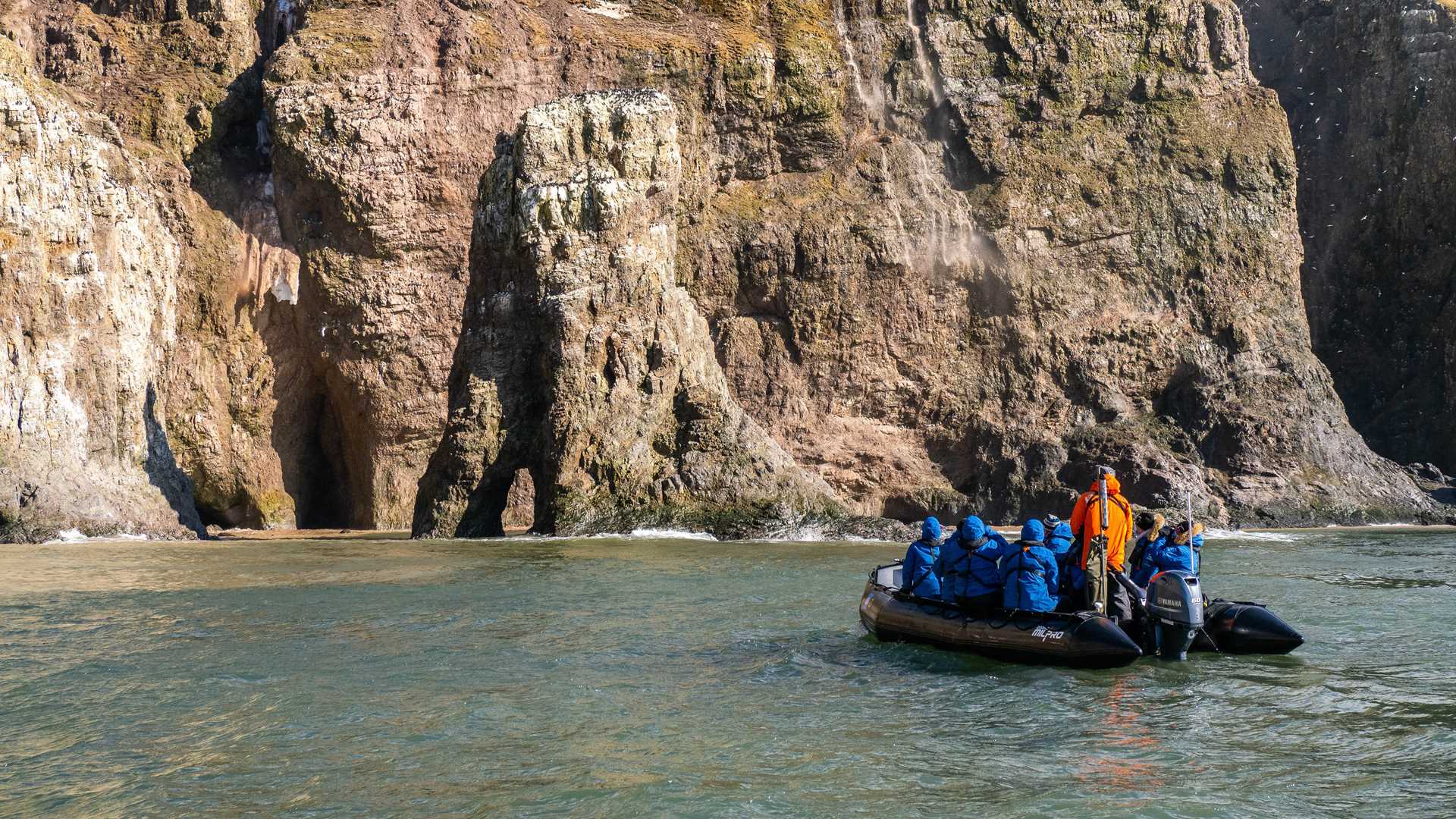 The first time Lindblad naturalist Michael S. Nolan approached Norway's Bear Island in a Zodiac, he couldn't believe what he was seeing. On the towering cliffs above perched thousands of birds, and in the skies even more, tens of thousands of them. "It was off the charts," Nolan recalls. Get Inspired By Photos, Videos, Webinars, Stories, And Exclusive Offers. Sign Up
At the time it was nesting season, the spring into summer months when Bear Island is at its most spectacular. This small island, the southernmost point of Norway's Svalbard archipelago, sits nearly 250 miles from the Norwegian mainland and 150 miles away from the tip of Spitsbergen, the next closet island in the archipelago. It was likely first spotted by Vikings, but Dutch explorer William Barents—who christened it "Bird Island" in 1596—was credited with the discovery.
Though the island was later renamed Bjørnøya ("Bear Island") after a polar bear sighting, Barents had the right idea—these days, birdlife reigns supreme here. This speck of land, surrounded by the chilly waters of the Barents Sea, has been fought over for centuries by Russia and various European powers wanting access to the convenient shipping route between the Atlantic and Arctic seas.
Over time, it has also done turns as a whaling station, a coal mining site, and a walrus hunting area. Norway took it over in 1920, and in 2002 it designated the island and its surrounding waters a nature reserve, limiting access during the spring and summer months to protect the birdlife. Except for a few people who work at the meteorological and radio stations based there, the island has no permanent year-round population.
Bear Island rarely makes it onto even the most intrepid travelers' itineraries, thanks to its far-flung location. But for those lucky enough to get there, the visit is a life-changing experience. Nolan has since returned five more times with Lindblad Expeditions. Even though his work typically takes him to the farthest reaches of the planet—including 54 trips to Antarctica—Bear Island never ceases to amaze him. "This place looks like nowhere else in the universe" he says.
So, what is it about this incredible island? Nolan shared some impressions from his visits over the years:
What Bear Island Looks Like Up Close
"Shaped like a rounded triangle, Bear Island is a very remote place, way out there in the rugged seas, hundreds of miles from anywhere. Lindblad is able to make a stop here because it's on our route from Norway to Svalbard. It's an amazing area to explore. As you get closer, your excitement begins to swell because you've spent several hours approaching the island on the big ship, watching it slowly take shape from a tiny speck in the distance.
Then as you head to the southern tip of the island, you see the craggy cliffs rising dramatically out of the ocean. You see incredible sea stacks that look like giant sculptures, and sea tunnels, and soaring stepped terraces where seabirds can congregate. The island's geology is ancient. Its southern cliffs date back to the Cambrian and Ordovician periods 500 million years ago. The sandstone and chalk in the north is from the Devonian and Carboniferous periods more than 60 million years ago.
When the warm Gulf Stream water meets the colder Eastern air, you get rolling fog that hovers over the island creating a mythical, moody atmosphere. Birds are filling the sky and the sea. Everything is a cacophony. It's as if there are more birds than there is air for them to fly in."
Why Bear Island is a Nature Lover's Dream
"On Zodiac tours, we get an up-close look. Picture a perfectly perpendicular sea cliff, with rough waves hitting it, six- or ten-foot breakers, and thousands and thousands of birds on the ridges. The edges of the cliffs are painted all white from the bird guano, as if someone sprinkled confectionary sugar all around.
The common mure and thick-billed murre make up around a third of the roughly one million birds you'll see on the island. Another 200,000 might be the black-legged kittiwakes, and among the rest may be little auks (also known as dovekies) as well as purple sandpipers or northern fulmars. The local kittiwake is a type of gull. Its name is an onomatopoeia word, because in theory, 'kittiwake' is the sound this bird makes."
Behind the little islets, where it gets calm, you go under arches, and you arrive in this magical area of sea caves. Once inside, there is this feeling of being in an amphitheater as you look out to the open ocean. Suddenly the cacophony dies. The sounds of the birds whirling outside cannot penetrate the caves. It's like someone just unplugged your earbuds and you can hear yourself think again. It's a 300-meter run through the silence of the caves, and then the moment you come out, you're surrounded by birds again."
The Best Season for Visiting Bear Island
"Breeding season goes from May and June into July. During these months, Bear Island is an absolutely critical breeding area for six or seven different species of birds. They arrive in droves and their sole objective is to get a single egg fledged.
Atlantic puffins breed on Bear Island too. Their numbers are much smaller, but we do see breeding puffins there. Everybody always wants to see these charismatic little creatures, and in the Zodiacs we can get to a spot where we're watching them at maybe 20 meters away, coming and going to their nest sites.
This singular spectacle can be joyously overwhelming, even for a non-birder. Witnessing the profusion of wildlife and the cliffs as the Zodiac weaves through arches that are made for exploration is amazing—not to mention you're hundreds of miles from any mainland anywhere. It really is one of the best places in the world for a Zodiac tour."