Enjoy Exclusive Amenities When You Book a Suite
The suites aboard the Lindblad Expeditions-National Geographic fleet are your elegant retreat at sea, featuring spacious living areas and incredible views that immerse you in the beauty of your marine surroundings. Now, booking one of these beautifully appointed accommodations comes with even more benefits. Our new Suite Exclusives package gives guests staying in eligible cabins* access to an array of amenities and perks designed to enhance your on-board experience and help make your voyage all the more memorable.
See more Suite Exclusives
A New Look for National Geographic Explorer Suites
The National Geographic Explorer recently debuted updated suites, enhanced with the sleek, Scandinavian design that has become the hallmark of our polar fleet. Each of these elegant cabins now holds a Command Center, which allows guests to continue to explore from the comfort of their suites with a set of tools that includes a barometer, a National Geographic Atlas, a television that broadcasts entertainment and ship navigation, a coffee maker, and multiple USB and universal electric ports for cameras and other devices.
Learn more about National Geographic Explorer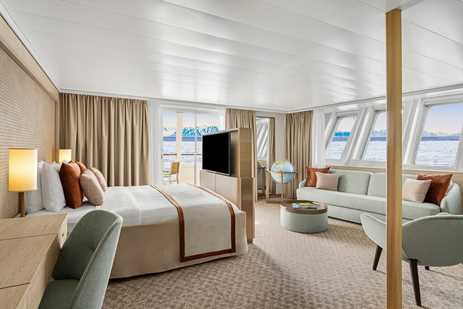 Email Sign Up
Get inbox inspiration you'll look forward to: photos, videos, live webinar invites, special offers, and updates. Fields in bold with an asterisk (*) are required.
---
*Amenities are valid on suites booked on National Geographic Endurance Categories 6 and 7; National Geographic Resolution Categories 6 and 7; National Geographic Explorer Categories 6 and 7; National Geographic Orion Categories 4, 5, and 6; National Geographic Quest Category 5; National Geographic Venture Category 5; National Geographic Endeavour II Suites A, B, and C; and the National Geographic Islander II Islander Suite.
**Priority booking for spa treatments is valid for one appointment per departure.
***Priority bookings for igloo reservations are only available on National Geographic Resolution and National Geographic Endurance and are subject to weather conditions and the duration of the voyage, which may limit the number of reservations available.