Penguins are a delight to watch in nature documentaries, but nothing compares to experiencing them in real life in their wild habitats. Whether it's one tiny Galápagos penguin shooting through the water like a torpedo or 150,000 pairs of king penguins gathered on one South Georgia beach, watching these charismatic creatures go about their daily lives is both uplifting and humbling. From Antarctica to New Zealand, our expeditions take you to an array of far-flung destinations where you can see a plethora of penguins up close and alongside expert naturalists who are eager to decode all the unique behaviors unfolding before you. Get Inspired By Photos, Videos, Webinars, Stories, And Exclusive Offers. Sign Up

Antarctica
Antarctica is likely the first place that comes to mind when thinking of penguins and this impossibly beautiful and icy wonderland does not disappoint. The seventh continent is home to five incredible species. The majestic Emperor penguin and the Adélie penguin live exclusively on the continent while chinstrap, gentoo, and macaroni penguins can be spotted on the Antarctic peninsula as well as in the subantarctic islands.

Their antics are endlessly fascinating: parading and waddling, building nests and stealing rocks, sliding on their bellies and porpoising through the sea. Observe them in their element at water level from a kayak or Zodiac as they swim and fish nearby. Paddle in protected waters past a colony congregating on ice floes or emerge from a Zodiac to walk on a remote beach filled with penguins (and depending on the time of year, with chicks). Since their black markings stand out against the white backdrop of snow and ice, penguins can often be observed even from the bow of our ships. And with help from a National Geographic Photography Expert on board you can capture spectacular portraits of these dapper denizens of the ice.
South Georgia and the Falklands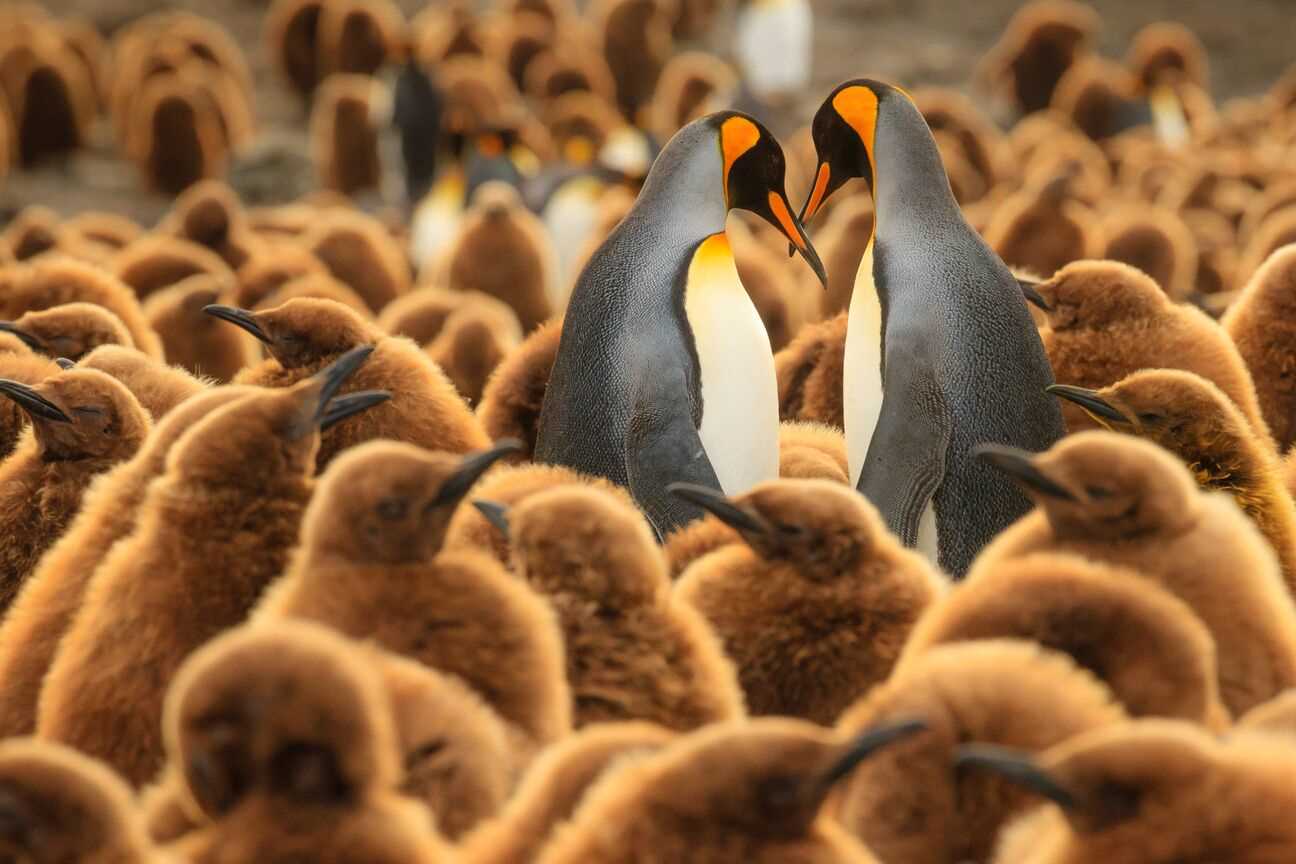 A wildlife spectacle unlike any other prompts South Georgia's nickname "The Serengeti of the Southern Ocean." On this remote, windswept island where animals reign supreme, Zodiac to shore to behold more than 100,000 breeding pairs of king penguins. Bold and curious, these unbelievable colonies of the world's second-largest penguin bustle with life. Since the king's breeding cycle lasts more than a year, it's possible to see all stages, from eggs to chicks to the comical brown fuzzy juveniles, any time you visit.

South Georgia is also home to gentoos, chinstrap, and an abundance of macaroni penguins along with massive elephant seals and a sky swirling with seabirds. Our flexible expedition schedule allows us to take cues from the wildlife and the weather and offer opportunities to explore this astonishing penguin-filled landscape on foot and in kayaks and Zodiacs.

In the Falkland Islands (approximately a two-day sail from South Georgia) you'll discover five species of penguins—perhaps a surprising find in an archipelago of white-sand beaches, sheep pastures, and windswept moors. Gentoo colonies number in the hundreds of thousands, and rockhopper and Magellanic penguins also congregate in the thousands along with vast colonies of magnificent nesting albatross and fur seals. Explore these two spectacular island groups on their own or, for a truly epic Southern Ocean adventure, pair them with Antarctica.

See penguins in South Georgia and the Falklands >


Galápagos Islands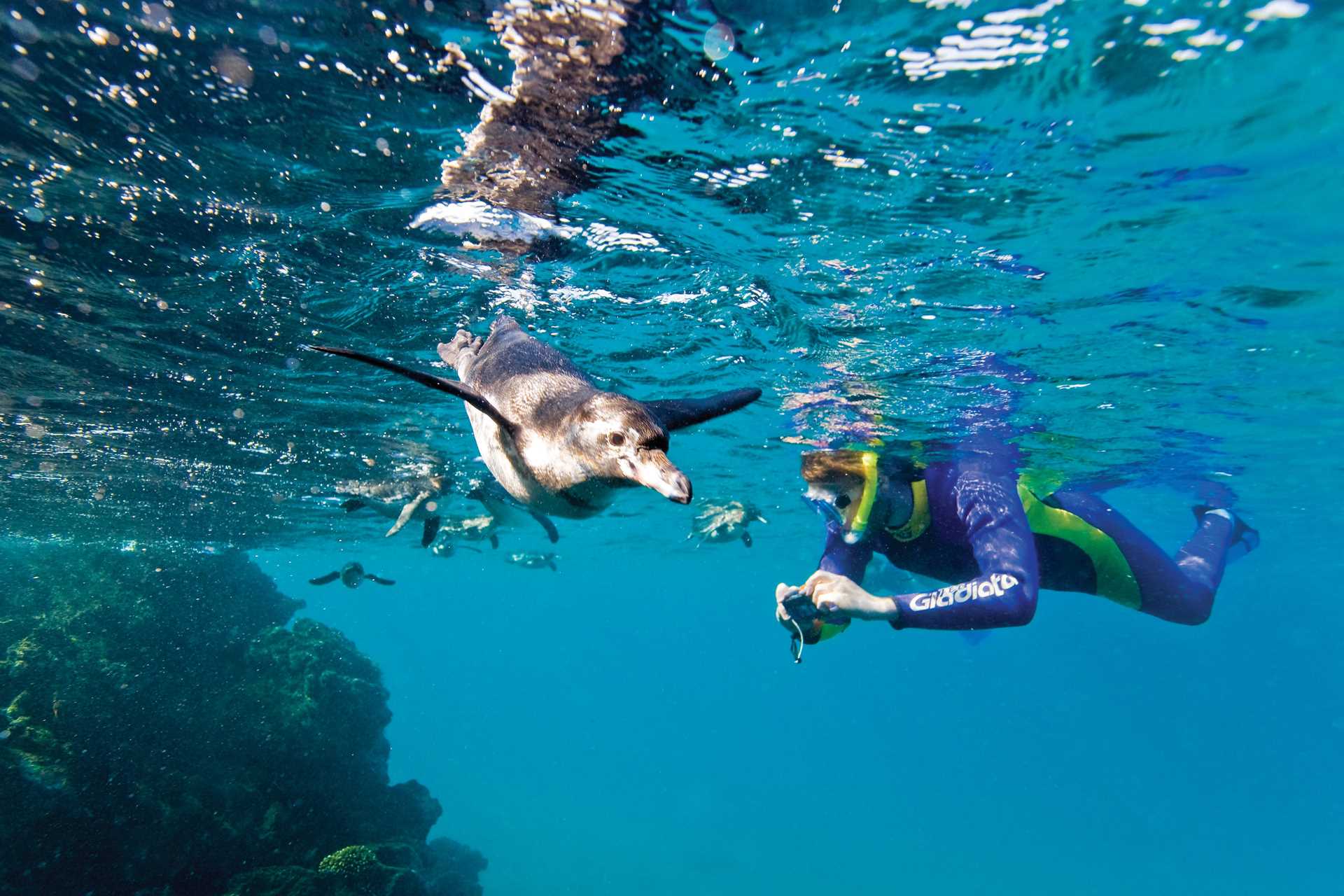 Renowned for their unique wildlife, the Galápagos Islands are synonymous with giant Galápagos tortoises and blue-footed boobies. But there's another endemic species here that's maybe not as well known and much more surprising: the Galápagos penguin. There are approximately 2,000 of these adorable, endangered birds here, with the largest populations around Isabela and Fernandina islands.
As you walk on tranquil beaches and explore rocky coastlines by kayak and Zodiac, you'll observe how the world's northernmost penguins have adapted to living close to the Equator. See them holding their flippers away from their bodies to release heat and shading their feet from sunburn with their bellies. Standing no more than 20 inches tall, they are able to nest inside shaded caves, cracks, and crevices in the lava rocks. But they mainly live in the water and encountering them when snorkeling is certainly something you'll remember for a long time to come. Imagine swimming alongside sea turtles and bright tropical fish when a tiny penguin zips past!

See penguins in Galápagos >


New Zealand and the Subantarctic Islands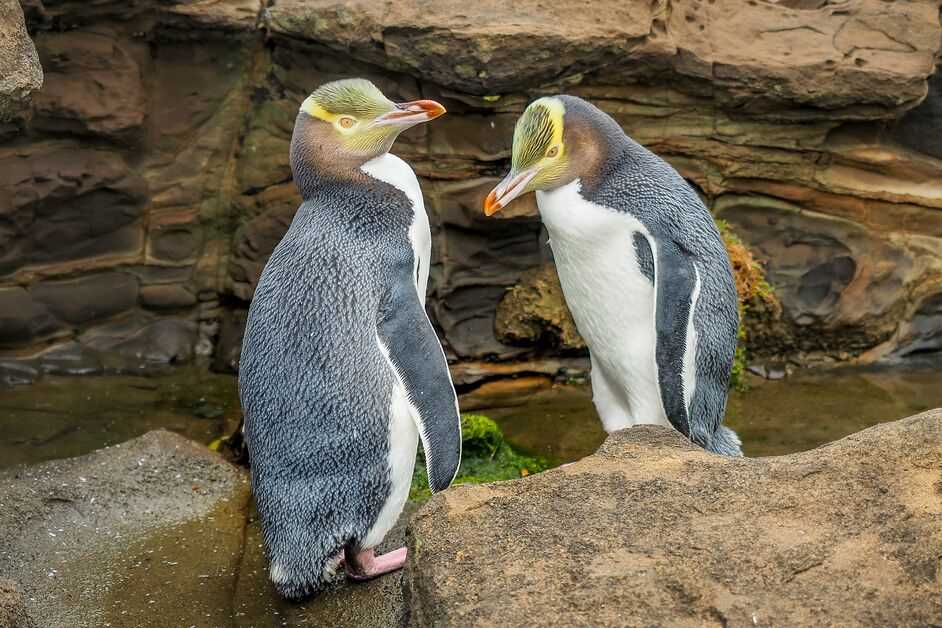 Snowcapped peaks and majestic fjords are among New Zealand's many charms, but the country is also an ornithologist's dream, with a whopping 13 of the world's 18 penguin species. Among those found on the mainland are extraordinarily unique endemic species like the yellow-eyed penguin, the tiny blue penguin, and the crested Fiordland penguin, all of which we'll hope to spot on our Coastal New Zealand voyage.

Or join our Southern Odyssey voyage and travel with us a further 125 miles below South Island to the remote and wildly beautiful subantarctic islands. A UNESCO World Heritage site, these New Zealand-owned islands teem with significant wildlife populations, biodiversity, and endemism. The northernmost Snares Islands are home to 99 recorded species of breeding birds including more than 100 colonies of the Snares crested penguin; there are colonies of king penguins on Campbell Island; eastern rockhoppers breed at Campbell, Auckland, and Antipodes Islands; and on Enderby Island, we may spot rare, yellow-eyed penguins as they move to and from their nests in the forests beyond the beach.
See penguins in New Zealand and the Subantarctic Islands >

Australia's Macquarie Island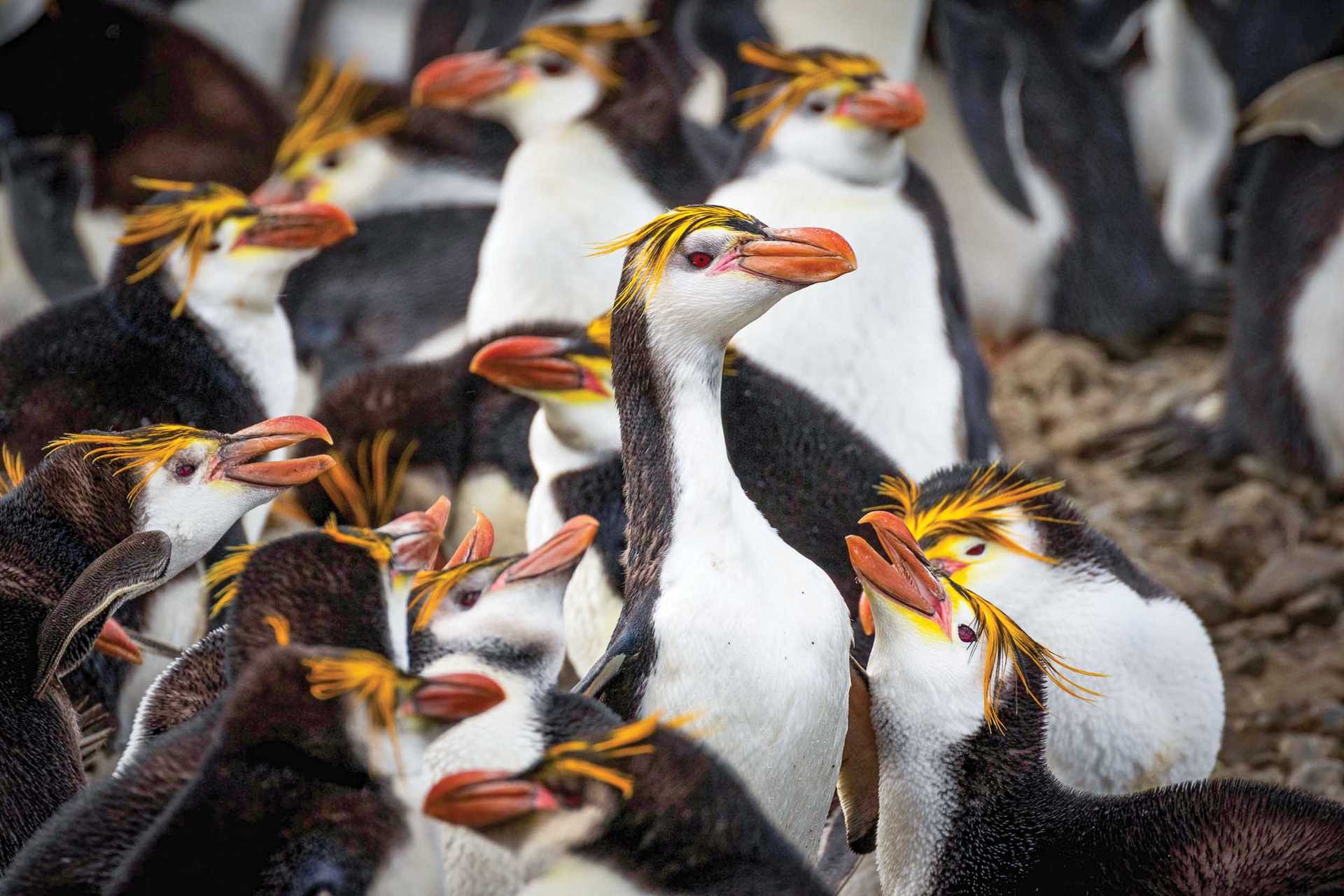 Macquarie Island, a subantarctic island that's a protectorate of Australia, is one of the world's most outstanding birding sites, yet it's one that very few people are privileged to see. Each year, only 1,000 permits are approved to visit this extremely remote island, which lies approximately midway between Australia and Antarctica.

The primary draw of making this pilgrimage is the chance to walk amidst a staggering population of 850,000 breeding pairs of endemic royal penguins. In addition to the mind-boggling number of royals, the island is also home to 150,000 pairs of king penguins (the third largest such colony in the world) as well as large breeding populations of gentoo and southern rockhoppers.

See the penguins of Macquarie Island on the following expeditions:
Southern Odyssey: New Zealand and the Subantarctic Islands
Epic Antarctica: From the Peninsula to the Ross Sea and Beyond


Patagonia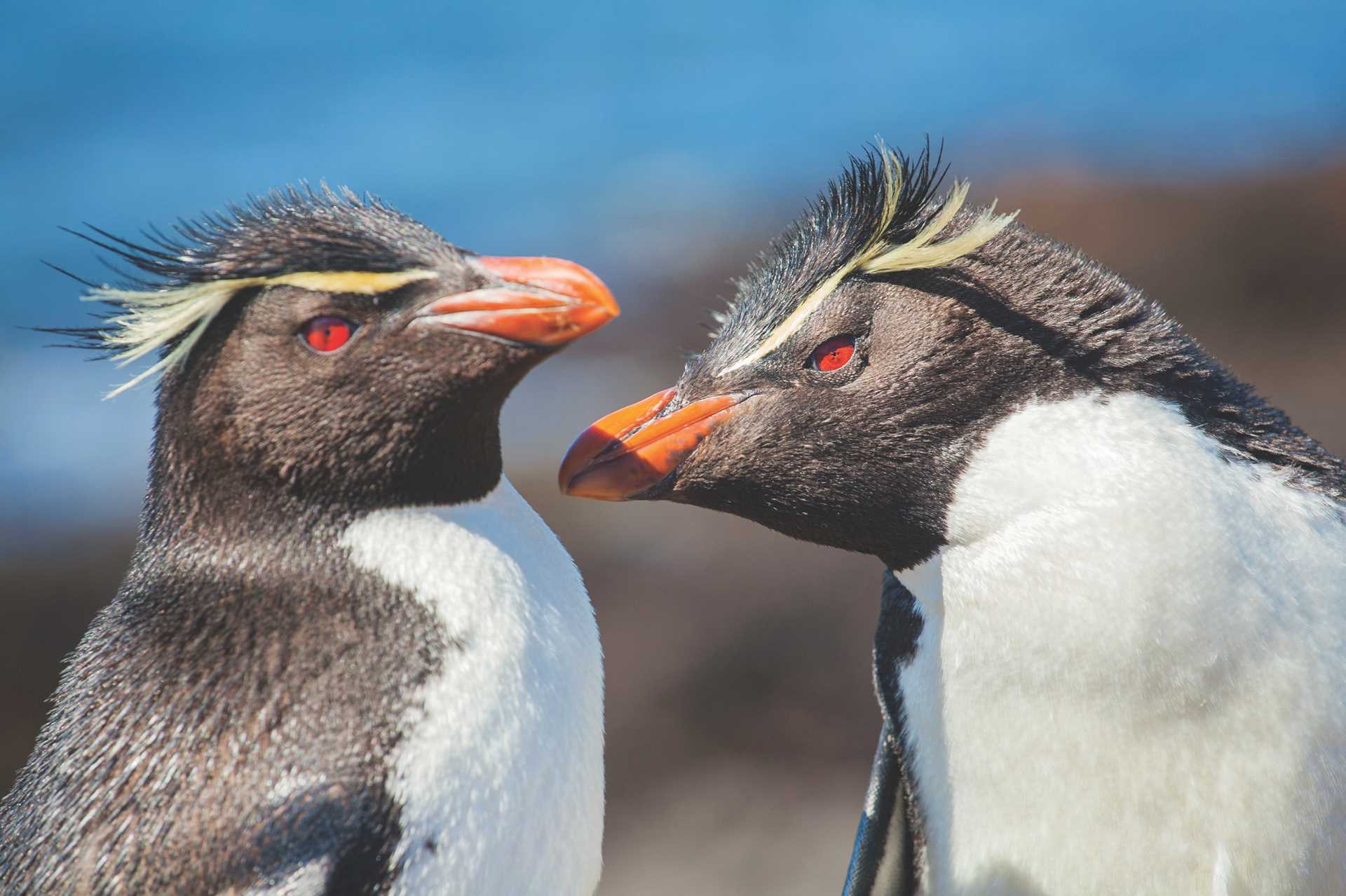 One of the most celebrated destinations for nature on Earth, Patagonia's array of unusual wildlife includes several species of penguins. About one million pairs of Magellanic penguins breed along the coast in more than 60 large colonies, digging burrows into grassy banks and standing guard outside the entrances to their tunnels.
A large Magellanic penguin population can be found on Rupert Island in Francisco Coloane Marine Park, but one very special place to see them—as well as southern rockhopper penguins—is Isla de Los Estados (Staten Island), Argentina. Ours is one of the only expedition ships permitted to explore this mountainous, forested island laced with rugged fjords.
There are 200,000 breeding pairs of Magellenic penguins in Tierra del Fuego, which is also home to king penguins and rockhoppers. We will observe that the latter are aptly named due to their impressive hopping climbs to reach their breeding locations.
As we venture by Zodiac and kayak to explore Patagonia's indented coastline, travel into fjords and inlets beneath walls of blue ice, and hike on shore with naturalists, the thrill of seeing penguins in this amazing landscape is always a possibility.