Conjure up a vision of Patagonia and you're apt to think of mountains—the toothlike crags of Fitz Roy, the snow-blanketed peaks jutting above Tierra del Fuego and, of course, the instantly recognizable crenellations of Torres del Paine. But as iconic as those dramatic Andean silhouettes may be, repeat visitors know the secret: at its most fundamental, this wild and remote place is defined by water.
With its towering fjords, glacial fields, scenic channels, and remote islands, Patagonia is a land so wholly characterized by water and ice that exploring it by sea is an easy choice. Make that voyage one with Lindblad Expeditions-National Geographic and it's even more of a natural fit, with a small-ship experience that allows for a nimble approach and rarified access. Here, two of our staffers with a wealth of knowledge on Patagonia weigh in on the benefits of visiting this untamed region by ship. Read on for more, then get ready to plan your next adventure.


Access hard-to-reach corners of remote Patagonia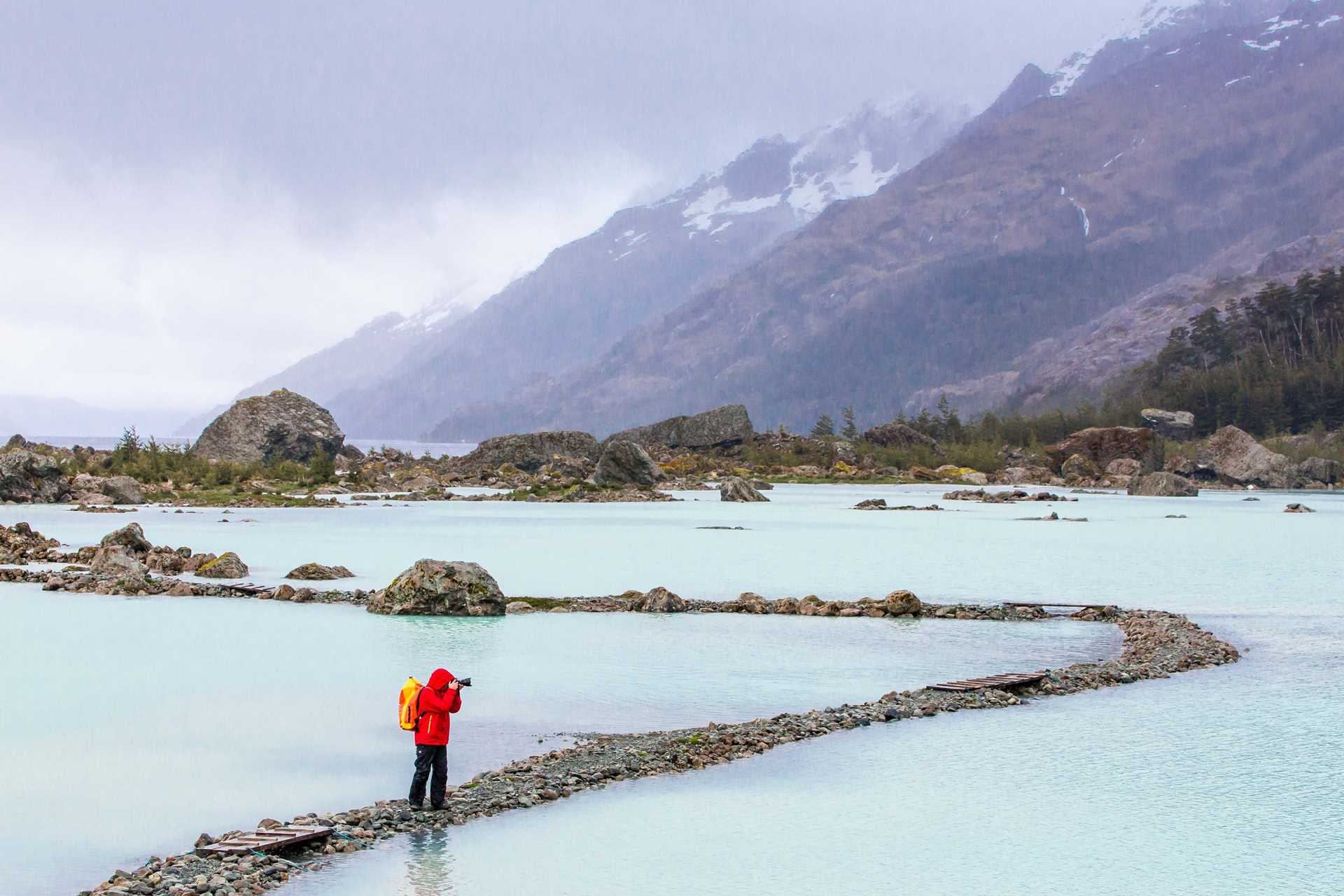 In a region as wide and wild as Patagonia, overland travel isn't merely a challenge—it's often an outright impossibility. "Patagonia is massive and it's not all accessible," says Emily Desjardins, Land Services Manager for our Patagonia voyages. Particularly in the southernmost parts of Chile, the terrain is so unspoiled that roads simply don't exist, barring all but the most intrepid of explorers and mountaineers from experiencing the landscape. "It's purely wild, and there's nothing there—except for us."
Aboard a Lindblad Expeditions-National Geographic vessel, you'll have access to places even your captain may not have experienced before. Often anchor points and routes are determined by tidal shifts and difficult-to-navigate waterways, and in an area this remote, much of the underwater landscape remains uncharted, so it's not unusual for our trips to make a stop on a part of the map nobody has ever been.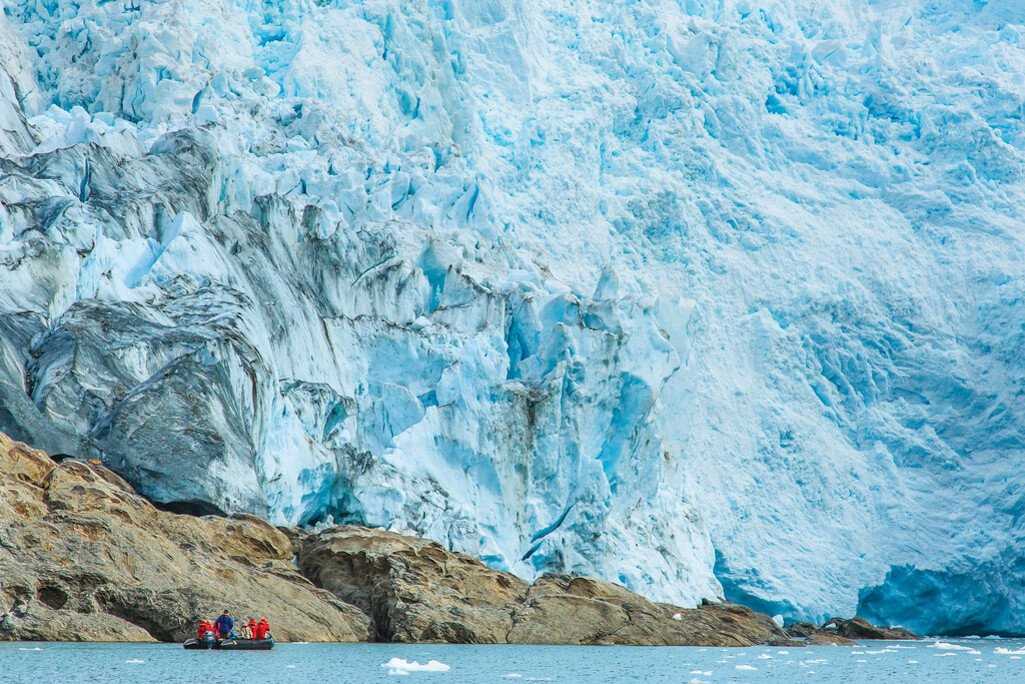 "It's so unexplored because it's so challenging to get there. You need a very experienced captain to be able to navigate," says Desjardins. With best-in-class crews aboard every ship, entering even the trickiest tidal inlets is de rigeur—and as a guest, you'll reap the benefits when you head to the deck and find yourself surrounded by only sea, mountains, and sky for hundreds of miles.
The small size of the vessels in the Lindblad Expeditions-National Geographic fleet is also a boon for travelers. Guests can get up close to watch waterfalls, see glaciers calving, and explore even the narrowest inlets that are impassable for larger ships. And in those hard-to-navigate corners that even our ships can't traverse, there's always the option of hopping into kayaks and Zodiacs for an even closer look at untouched wilderness.


Visit Lindblad Expeditions-exclusive destinations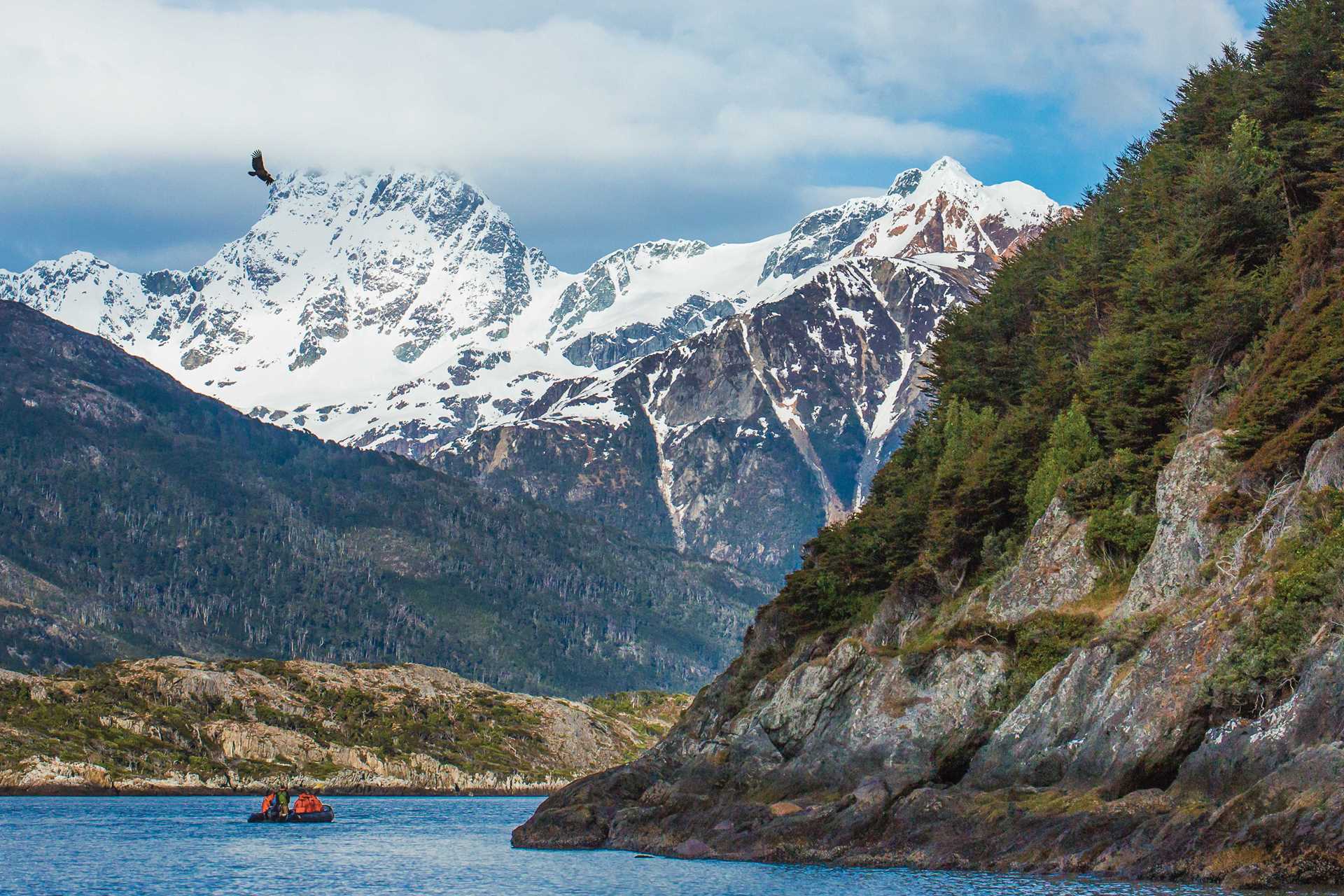 As a science-focused expedition company, supporting conservation work and research is at the forefront of Lindblad Expeditions' mission. That's helped us forge key partnerships with research groups the world over, which in Patagonia translates to rarified access to places that most visitors will never see.
For the Wildlife Conservation Society, our partnership has been instrumental in helping them build ranger stations, eradicate invasive beaver populations, and inventory elephant seal colonies in Karukinka Natural Park in Tierra del Fuego, the region's largest privately held park and one of the most biodiverse places on the South American continent.
That longstanding partnership has created two distinct benefits for our guests. "We always have a Wildlife Conservation Society representative come aboard to travel with us, whether it's for a few days or the whole voyage," says Desjardins. "It's really special getting to engage with their staff." It also means special access to Karukinka, which spans over 700,00 acres of protected land with just one road that snakes into the area. Guests are among the lucky few able to see the park's old-growth forests, blue-tinged glaciers, and southern elephant seals firsthand.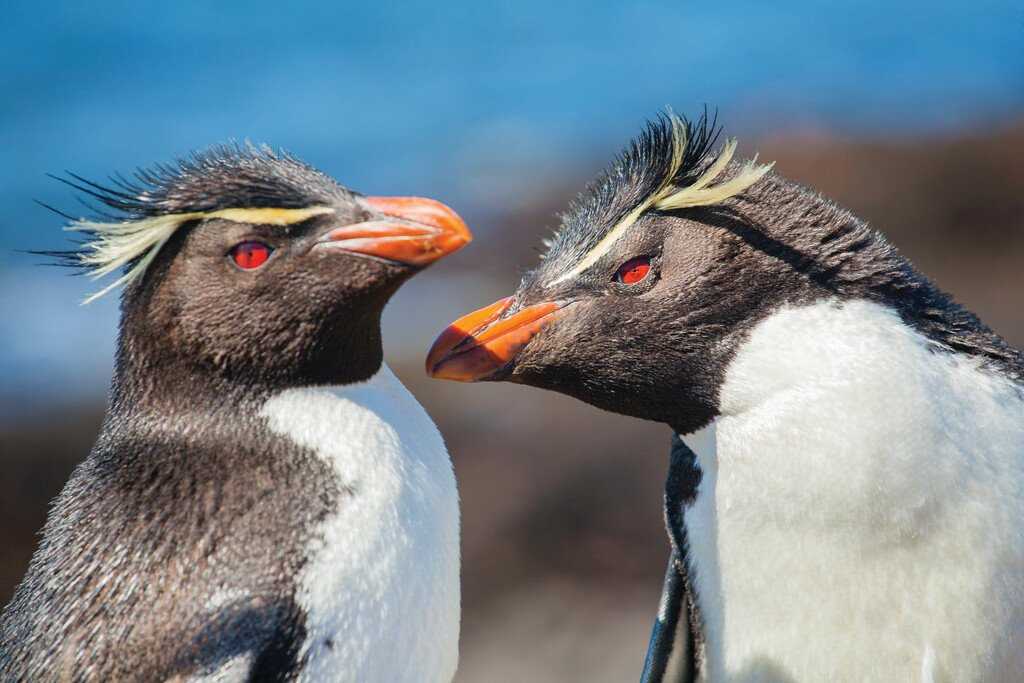 On Isla de Los Estados, or Staten Island, you'll see landscapes witnessed only by researchers—because of the island's ecological fragility, the Argentine government tightly restricts access, particularly to large vessels, and few non-scientists ever set foot here. "We worked for a very long time with the local government to do this safely," says Desjardins. "They didn't want a big ship—they were worried about damage to the shoreline and the environment. And we were able to say, this is how small we are, we can get in and out without disturbing much."
Thanks to this relationship, you'll have the chance to spot seals, cormorants, Andean condors and rockhopper penguin colonies, and even hike to an overlook and see the red-and-white San Juan of Salvamento lighthouse, made famous by Jules Verne as the "Lighthouse at the End of the World."


Effortlessly explore a wide range of destinations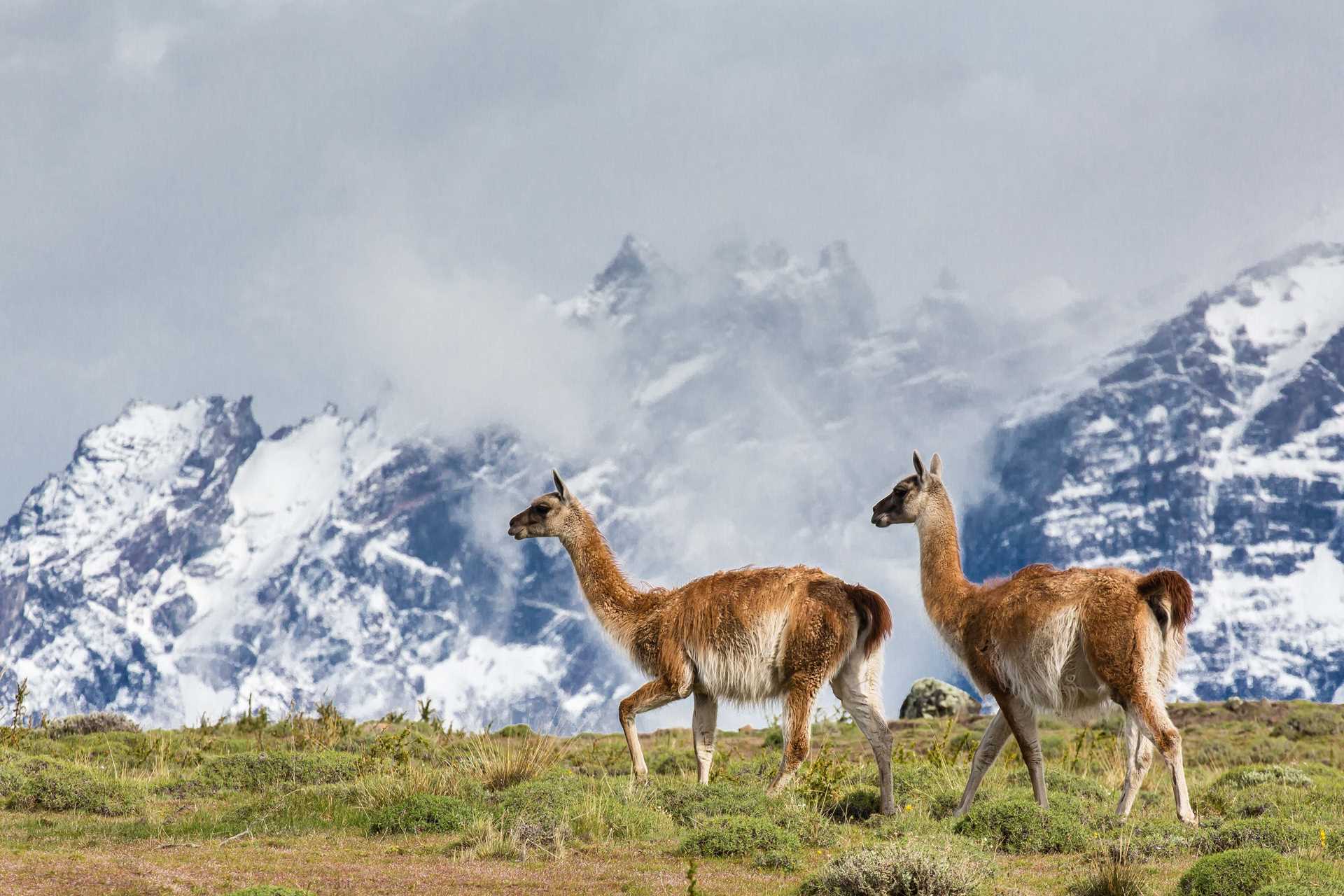 When you go by ship, you gain the opportunity to tackle wide swaths of Patagonia on a single voyage—without ever repacking your bags or dealing with the headache of transfers and plane-hopping. For example, on our Best of Chilean Patagonia: From Torres del Paine to Cape Horn expedition, you'll board the ship in Puerto Natales, near the Chilean-Argentine border, and wend your way through the fjords and archipelagos of Chilean Patagonia all the way around the southern tip of Cape Horn, taking in a range of spectacular sights. Or book a passage on Antarctica and Patagonia: Legendary Ice and Epic Fjords and you can witness two of the world's most iconic bucket-list destinations in a single, unforgettable trip.
The ability to pivot, too, means you'll never miss out on something extraordinary. "With a ship, there's flexibility, and we can adjust on pretty much a moment's notice to deal with the realities of traveling down there," says Susan Salvin, Expedition Development Manager for Lindblad Expeditions' Patagonia operations. If high winds foil plans for a landing at Cape Horn, you might instead find yourself on an unplanned visit to the spectacular Glacier Alley. There's no shortage of awe-inspiring sights in Patagonia, and traveling with our experienced captains at the helm means even the occasional travel hiccup will take you somewhere thrilling. "It's not easy, but the payoff is amazing," says Salvin.


Experience a new point of view on some of the globe's most iconic scenery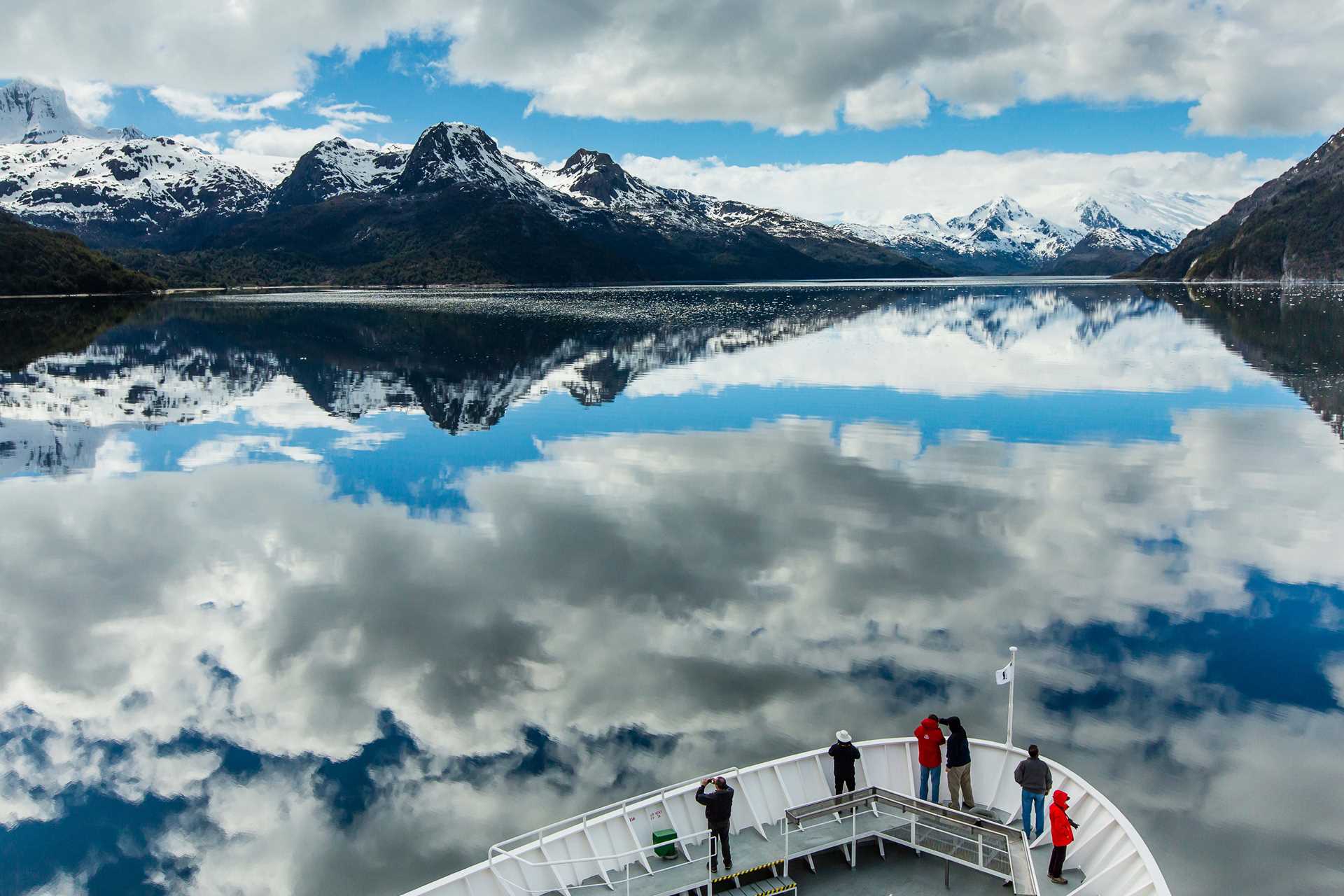 Your perspective shifts, both literally and figuratively, from the water. When you're sitting at sea level, peaks seem even more dramatic and towering, ice fields more massive. Glaciers that appear solid and still from above come alive when spotted from the water, where icebergs calve into the sea and meltwater streams off in waterfalls, and you'll understand why they're known as rivers of ice. Birdwatching becomes a meditation of sorts when you're skimming silently along a channel in a kayak, so unobtrusive that the birds flit between low-hanging branches mere feet away.
In a landscape known for its drama, exploring from the water lends you a better look at not only the large-scale grandeur of soaring peaks, but at the small vignettes—chunks of ice bobbing in the water, albatross chicks fluffing their downy feathers, the creaks and groans of shifting ice echoing over the fjords—that define this wild and windswept place.