Mostly uninhabited and teeming with remarkable wildlife, the legendary islands of the Galápagos captivate explorers of all ages. On a Lindblad-National Geographic voyage, every family member can choose from an array of adventures like hiking among giant tortoises in the lush highlands or snorkeling in an extraordinary undersea world where penguins and sea lions co-exist.

But thanks to our exclusive National Geographic Global Explorers program, kids and teens also have their own unique learning opportunities. Knowledgeable and enthusiastic certified field educators engage our youngest travelers, teaching them to approach the islands with the mindset of an explorer. Whether they are making scientific observations like Charles Darwin or earning a Zodiac "driver's license," young guests will have fun learning while they make memories to last a lifetime. Here are just some of the activities in store for kids and teens aboard our Galápagos expeditions.
Record Wildlife Observations in a Field Notebook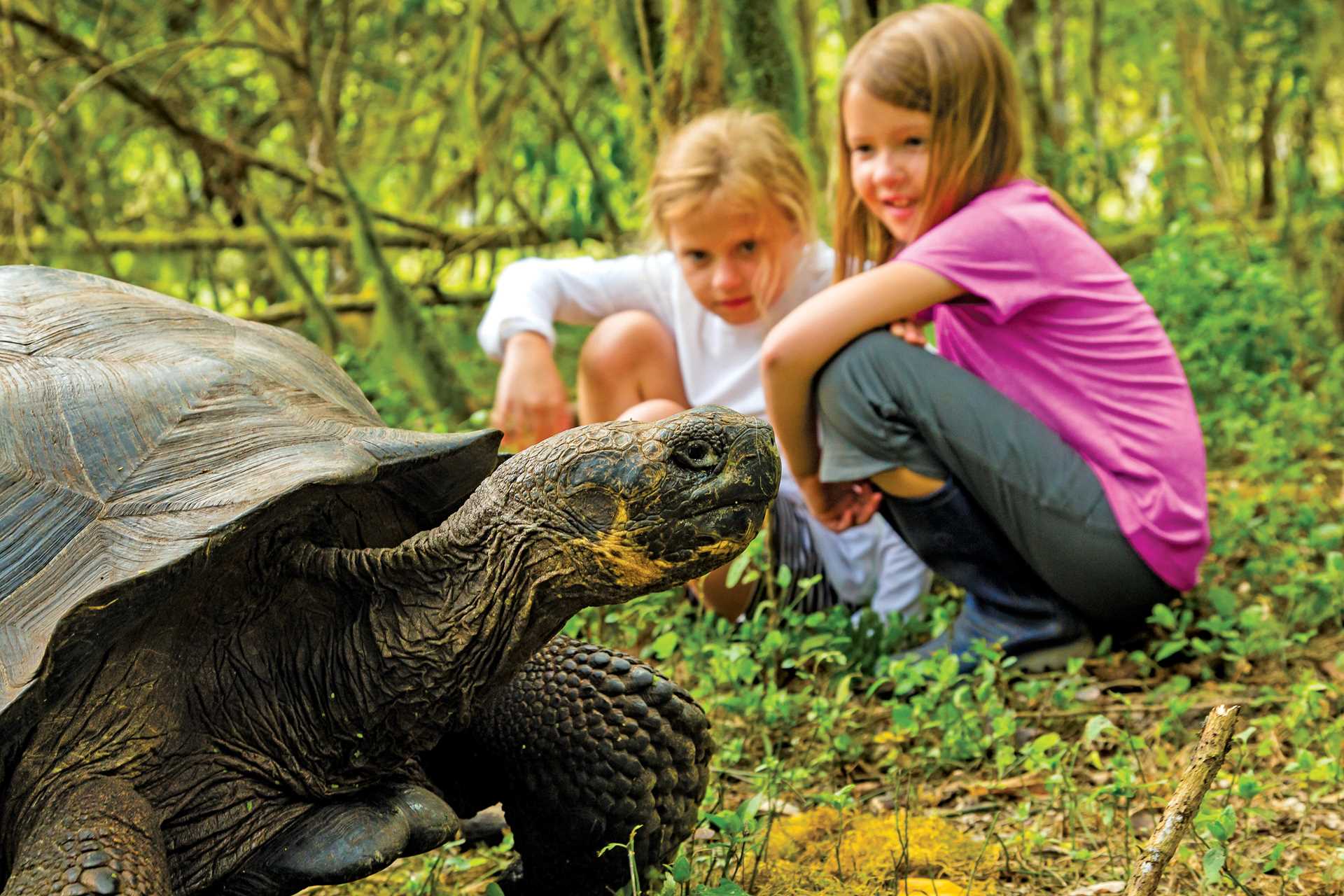 In a magical archipelago where wildlife is unfazed by humans, kids can observe flamingos, frigatebirds and blue-footed boobies, walk among giant tortoises, and spot hundreds of marine iguanas congregating on lava rocks. Every National Geographic Global Explorer receives a specially designed Galápagos field notebook filled with species checklists, colorful photos, maps to track their itinerary, and fascinating information about the islands' unique wildlife and geology. Following in the footsteps of Darwin, these keepsake notebooks also include areas for kids to record their own observations and sketches of the wild wonders they'll encounter along the way.
Create Postcards to Mail at the World's Most Unique Post Office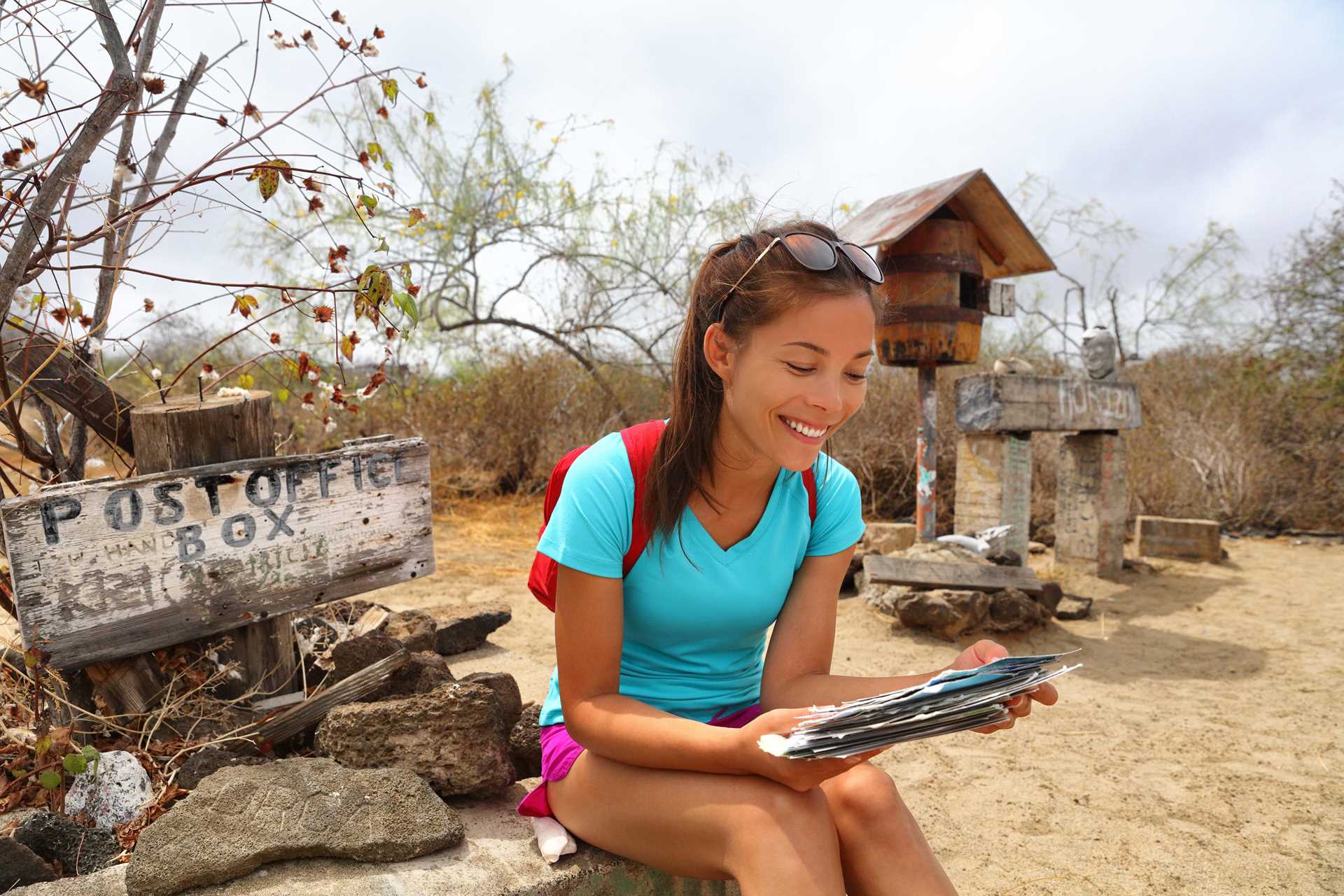 Kids on Galápagos voyages that stop on Floreana Island can take part in a centuries-old tradition at an 18th-century "post office." Aboard the ship, they can design and write their own postcards and then drop them in the designated wooden barrel, carrying forward the legacy of a mail system set up long ago by whalers. During the visit, kids can also sort through the postcards others have left to see if there are any addressed to residents in their own hometown; if so, they can choose to hand-deliver these missives. This special no-stamp system, which only a handful of people get to experience every year, is a unique way to connect adventurers around the globe.
Earn a Zodiac "Driver's License"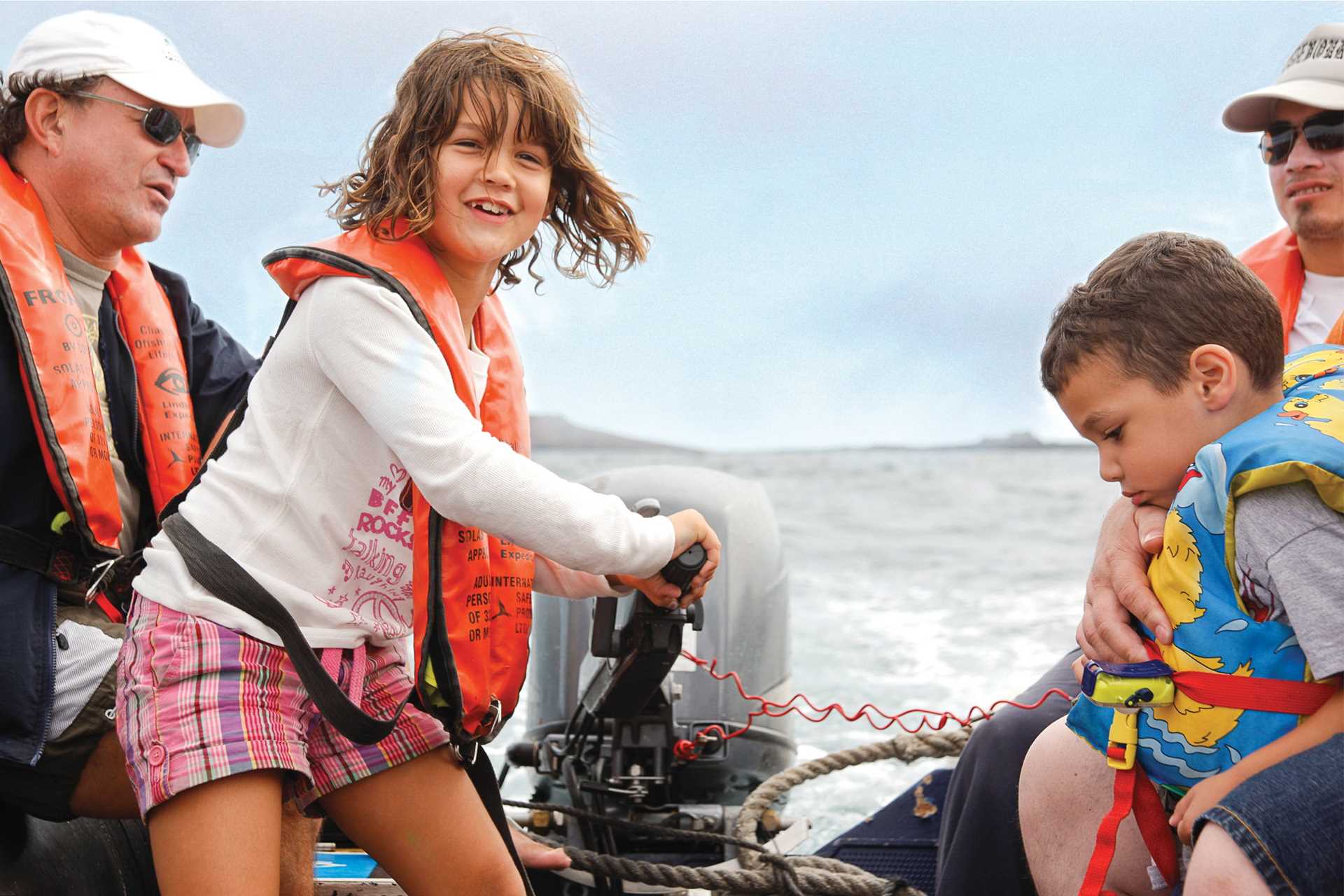 Very few kids come back from a family vacation with a driver's license in hand. With help from a veteran naturalist, young explorers will learn how to steer one of the sturdy, rubber Zodiac boats used to transport guests to the islands' rugged shorelines, and then take turns at the helm, cruising through the Galápagos like master navigators. Nothing quite compares to the singular thrill of zipping around these legendary islands and kids will return home with a sense of accomplishment and a Zodiac "driver's license."
Do a Plankton Tow in the Galápagos Marine Reserve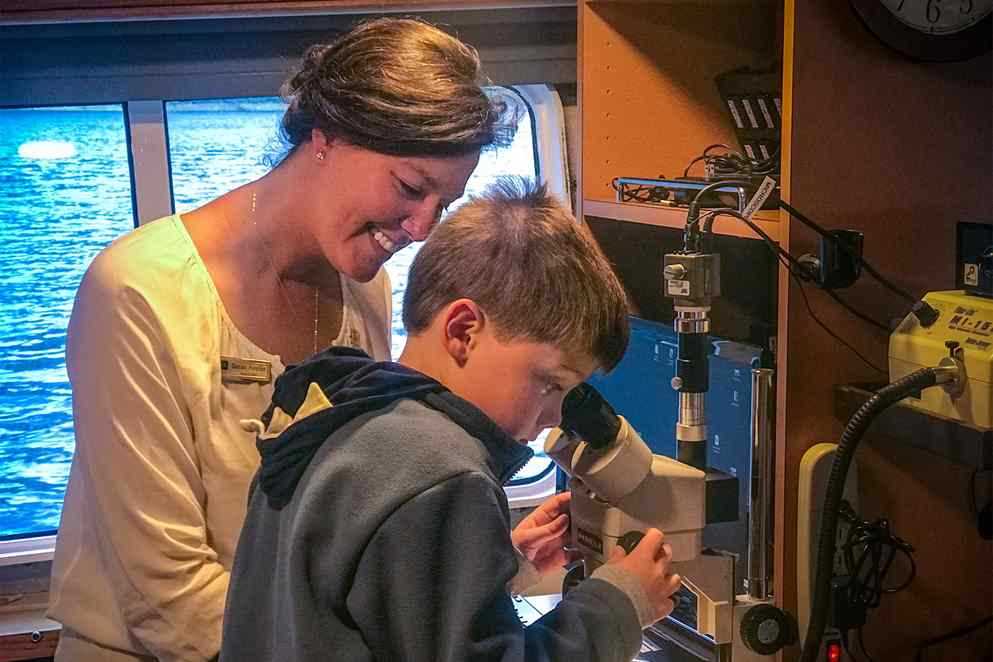 As citizen scientists, National Geographic Global Explorers will drop a net over the side of a Zodiac to collect plankton—the microscopic organisms that are a key food source for the diverse and amazing marine life in the Galápagos. Back on board, kids will view plankton samples under a microscope and learn why these tiny creatures are so critical to this special ecosystem. Our ships are outfitted with state-of-the-art tools for exploration and a range of resources for guided hands-on learning.
Dream Up a New Fish Species

In our Fashion a Fish activity, our certified field educators will teach kids about the traits and adaptations of different fish found in the Galápagos Marine Reserve. Then they will dream up their own wildly creative species, whether that's adding the bright color of a parrotfish to an ocean sunfish or merging a giant seahorse with a surgeonfish and a pufferfish. This is one example of the many imaginative and engaging ways that kids of all ages can participate in our unique and interactive program.
Snorkel with Penguins, Sea Lions, and Sea Turtles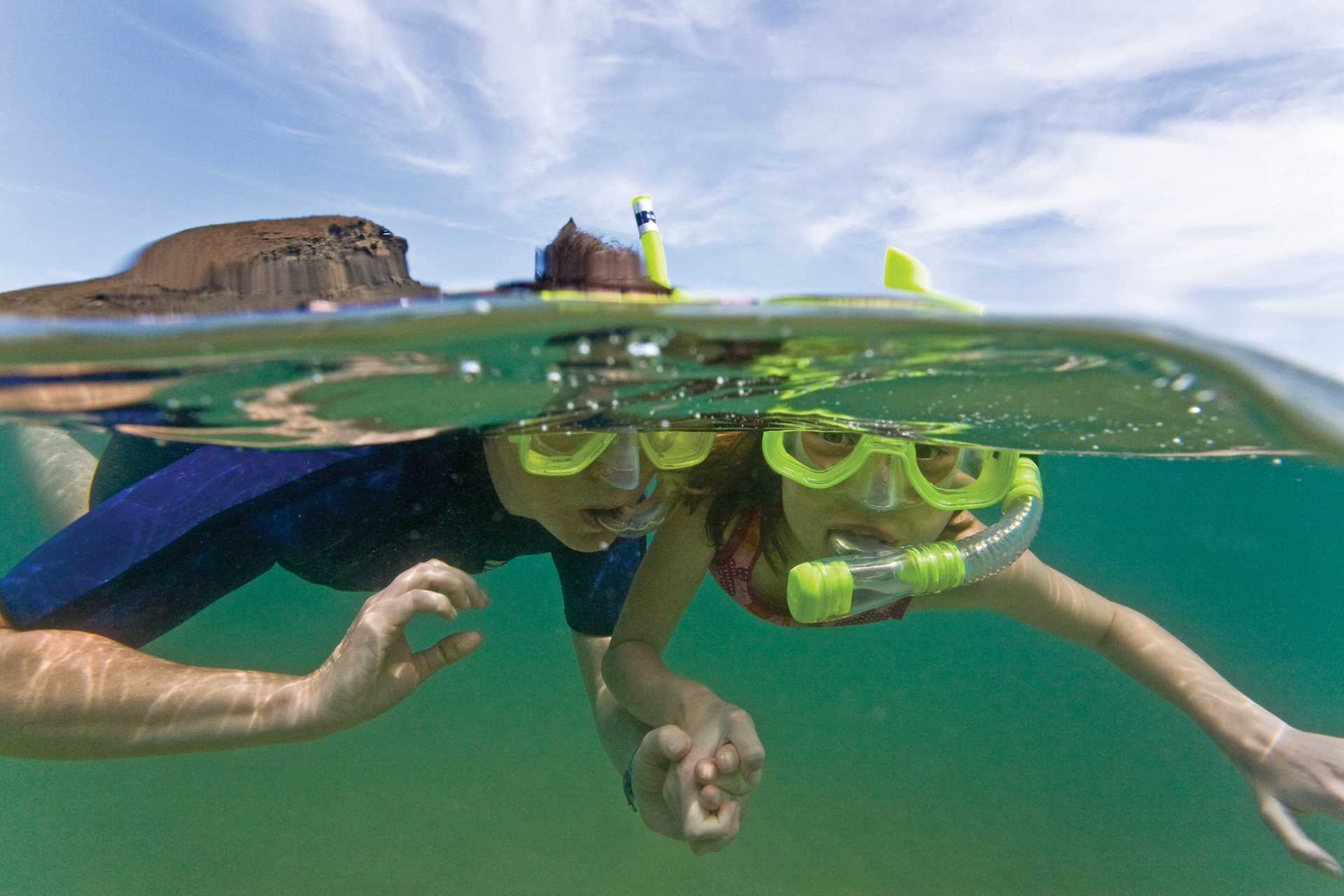 Kids can observe the amazing, undersea world of the Galápagos Marine Reserve in a glass-bottomed Zodiac, but snorkeling in the warm shallows of the islands is an immersive experience like no other. The diversity under the water is as thrilling as it is on land and you never know what you might see when you dive in: foraging sea turtles, playful sea lions, schools of bright fish, swimming lizards, or even the world's northernmost penguin. In addition, our experienced undersea specialists and naturalists will share video footage of their own underwater encounters and help kids identify the marine life they spotted.

Learn About Navigation on the Bridge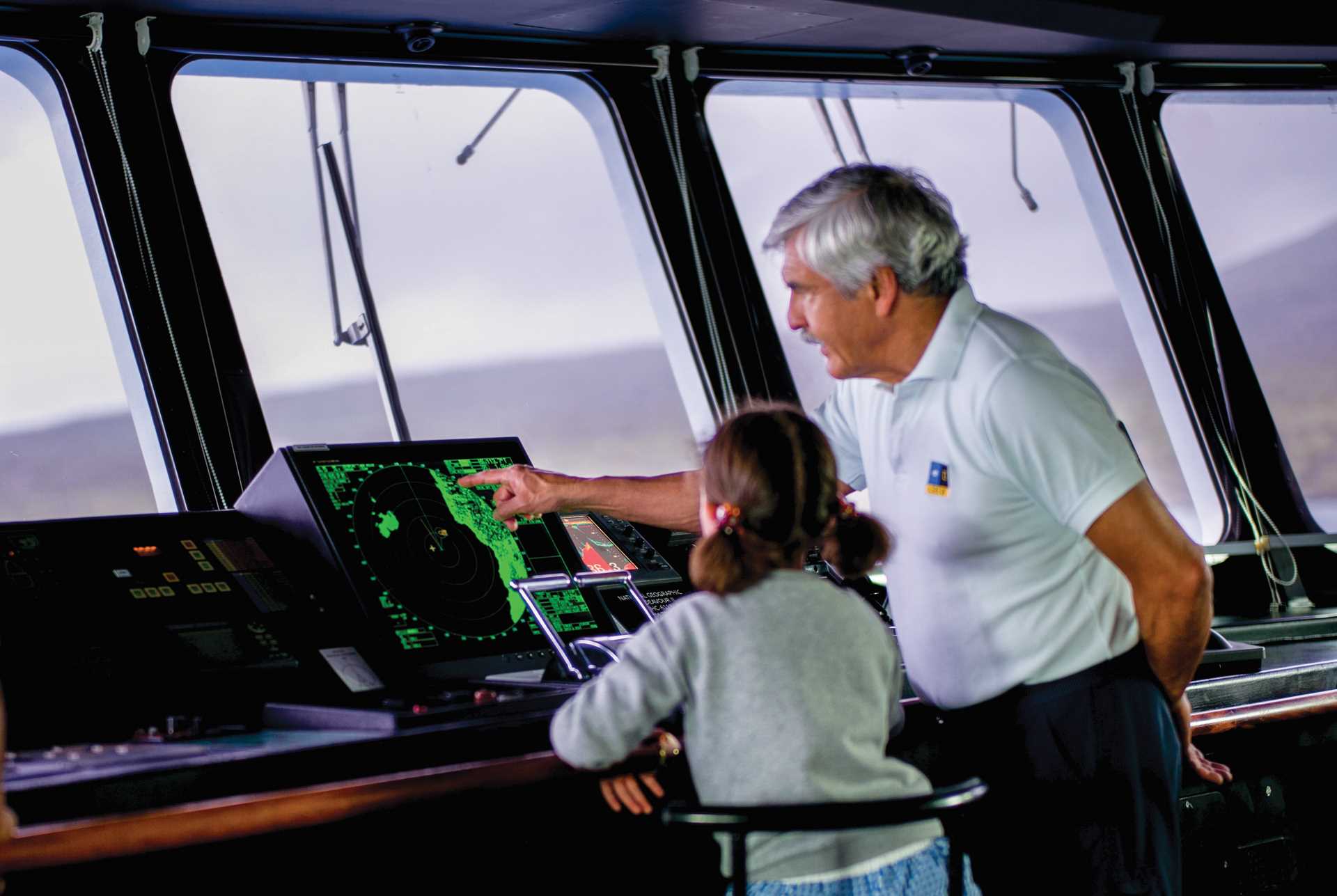 Young explorers can join a Bridge tour to discover the inner workings of navigating both ships sailing in the Galápagos, National Geographic Islander II and National Geographic Endeavour II. Plus, with our fleet-wide open Bridge policy, they can observe instruments and maps and ask officers questions at any time. Our exclusive family program aims to nurture and inspire the next generation of explorers, scientists, conservationists, and maybe even ship captains!